If you get "this" from the cast at Disneyland, you'll be out! The person who has received it will be like this.
What happened to the guest who had illegally invaded Cinderella Castle?
In September of this year, guests "illegally invade" the park's iconic Cinderella Castle at the Magic Kingdom at Walt Disney World Resort (Disney World), the world's largest Disney resort in Orlando, Florida. There was an event.
Here is a video of the evidence taken by another guest.
You can see a man waving from a balcony that is not normally open to the public. Disney World and Disneyland are known to take fairly strict measures against guests who break the rules, but what happened to this man after that?
A man who broke into Cinderella Castle said about that time, "I saw the stairs going up to the castle while walking. I thought it was strange that the door was open but no one was up. I went up for the time being (I saw the cast coming towards me while talking to someone over the air) and realized that it was a place I shouldn't go up.
So I went down and checked if it was okay. The cast woman asked me how I got up, so when I said "I used the stairs", I was asked if the door was open this time. "Yes, she released me," she said in an interview with The Independent.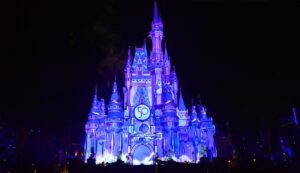 The man claims that he was completely "open" with no sign near the stairs indicating that it was an exclusion zone, but was later called by another cast and handed over "something". It has been done. It is a warning letter stating that you are prohibited from entering the Disney World grounds until the set deadline.
The period of ban on entry and exit varies depending on the content of the violation, and many people are sentenced to "no entry or exit for a lifetime". This time it was one of the mildest invasions, so it wasn't permanently banished, but the man revealed that he had protested to the management side, saying he was dissatisfied with the disposition. It is not known if the man's case was heard.