If you break "that rule" at Costco, you may receive a "cowardly letter" a few days later !?
A "warning statement" arrives for customers who break the rules at Costco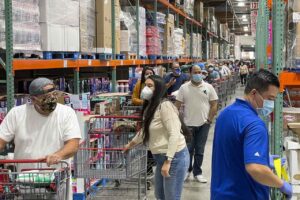 Costco is a supermarket where you can get all kinds of products such as food, home appliances, and clothing at a reasonable price if you become a member. Recently, it has become more popular and popular, as it is frequently featured on Japanese TV programs, but if you do not follow the rules, your membership may be cancelled.
Although it varies from state to state, many stores in Costco in the United States are reapplying the rules for wearing masks that were once abolished in response to the re-expansion of the new coronavirus infection. So what if you break this rule? A female customer who entered the store without a mask without knowing that the rules for wearing masks were revived later revealed to US KLEW that a "warning statement" had arrived from Costco.
The letter sent from Costco said:
"On August 23, 2021, Governor Jay Insley mandated all Washington state companies to wear masks. Costco Wholesale fully supports this mandate. Mask mandates lifted All members and their guests must comply with this policy until done. We are considering canceling your Costco membership because you did not wear the mask properly. I don't want to be, but if you're not willing to follow our mask wearing rules, your membership will be revoked and your shopping privileges will be deprived. Costco is a private, membership-based warehouse. Being a club, membership benefits and membership terms apply to membership. The membership terms published on our website state that "membership may be revoked at Costco's discretion."
It has not been actually canceled at the stage of consideration yet, but if the store judges it to be "malicious", it will not be possible to be a member of Costco.
By the way, as stated in the membership agreement that "membership may be canceled at Costco's discretion", membership will be canceled even if you break rules other than the obligation to wear a mask or commit harassment. Please be careful as there is a possibility of harassment.