Singer Adele will release her long-awaited new album "30" on November 19th. It's been talked about that it's time to release the new album of Ed Sheeran, a pop star from his hometown, but Adele doesn't seem to care at all.
Adele commented on Ed Sheeran
Adele (33) has finally returned to the music scene after releasing the long-awaited new song "Easy On Me" on October 15th since the previous work "25" released in 2015.
Adele has also decided to release a new album "30" that also includes the same song on November 19, but on the same day Silk Sonic's first album "An Evening" by Bruno Mars and Anderson Park With Silk Sonic is about to be released, and Taylor Swift's re-recorded album "Red (Taylor's Version)" is about to be released the week before. , Many notable artists have been talking about releasing long-awaited albums one after another at the same time.
And although the release date has not been covered, on October 29th, Ed Sheeran's first album "= (equals)" will be released after the period of inactivity and childcare leave, and Adele and Ed, Two of Britain's leading singers are also drawing attention as they release new albums at the same time.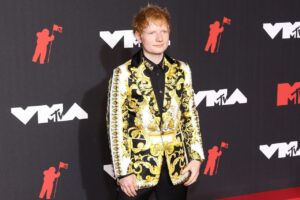 If the big guys release a new work at the same time, the question is who will be better off in terms of sales such as charts, but Adele is Ed's new work released at least three weeks before his own work. Don't worry about fighting with.
Adele, who recently appeared on the British Heart Radio program to promote a new song, said, "(November) 19th release, when the moderator talks about the close release time of Ed's new work. "?" Confirmed to the moderator.
When the moderator said, "No, it's not the 19th. Don't rush!", He responded with a big laugh, "I'm not panicking!". "He's the one who's impatient," he joked, screaming Ed.
Adele's comeback has quickly become a hot topic in the music scene, with "Easy On Me" breaking the record for the most played song on Spotify on October 15th, when it was released. If Adele and the release time are to be hit, it seems to be a threat to other artists, but what does Ed, who has been told that "it is he who is impatient", really think?