Last Updated on 10/31/2021 by setagayablueocean
Emma Watson was talked about attending a public event for the first time in about two years at the "2021 Earthshot Prize" held at Alexandra Palace in London. At the event, he also met with his own idol.
Emma Watson meets a longing person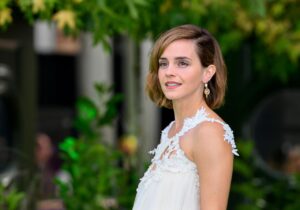 The UK attended the "2021 Earthshot Prize" held at Alexandra Palace in London on October 17, local time, and the movie "Story of My Life / My Life" released in 2019. Emma Watson (31) has appeared at a public event for the first time in about two years since the premiere of Little Women.
The award was founded by Prince William of the British royal family, and every year from 2021 to 2030, "Nature Maintenance and Restoration," "Revival of the Sea," "Purification of the Air," and "Creation of a Waste-Free World." , "Climate change restoration", which honors those who have made achievements in the five categories. Emma, ​​who has been actively wearing sustainable items, was also talked about attending the day with Harris Reed's dress, which is a remake of an old wedding dress.
Emma has been talking about her appearance in public for the first time in two years and her unique, earth-friendly outfit, but at the event, she seems to have met her own idol. That person is Al Gore, a former Vice President of the United States, who has been working on climate change issues for many years, including making a documentary film "An Inconvenient Truth" dealing with environmental issues in 2006.
For Emma, ​​who has also been actively working on environmental issues, it seems that the meeting with Mr. Gore was "deadly" happy, and he reported on Instagram as follows.
"I'm dead. It was a very unrealistic experience to meet and interview one of my idols. One of the many reasons I respect Al Gore is that he was elected president in 2000. Despite being defeated in the struggle of the first generation (by an unbearably small difference), he has not succumbed to humiliation, loss, or defeat, and continues to work on his own. I've been hit by backflow for years, but I've been swimming. That's why I'm a hero. Thankfully, climate change efforts are now mainstream and the waves are in the same direction as him. It changed the course. Now we are all swimming with him. "
Costumes for meeting Al Gore are also sustainable
By the way, the costume that Emma wore when she met Gore was also made using sustainable materials. Emma wore an Emilia Wickstead setup, which was made from materials left over from the 2022 resort collection, 62% recycled. It is made.
Emma seems to like this setup a lot and writes on Instagram, "I'm going to wear a lot!"
Emma Watson wearing a "recycled" dress to the Earth Shot Awards Ceremony!