Last Updated on 10/31/2021 by setagayablueocean
No way this happens because of McDonald's potatoes … The topic is that the "problems" caused by potatoes are more dangerous than expected.
Unexpected trouble caused by McDonald's potatoes
McDonald's, a major fast food chain, holds down regular menus such as royal road hamburgers, cheeseburgers, and hearty Big Macs, and is the most popular McDonald's potato. Many of the people reading this may say that they are "addicted" to the deliciousness that makes them addictive once they eat it.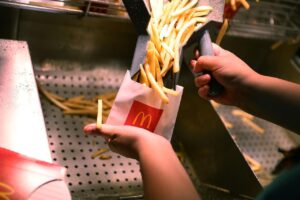 However, because of its popularity, it often triggers trouble. In particular, most of the people who visit McDonald's are hungry, so it's easy to get frustrated. Just recently, there was an incident like this due to potatoes.
According to Newsweek, a female customer who was angry with the waiting time for potatoes invaded a cooking area that was off limits to anyone other than those involved, and used a stainless steel potato scoop (bagging scoop) to scoop the potatoes. It is said that he hit the head. After that, the female customer got in a car with a child and a friend who came with him and escaped from the scene. The identity of the female customer has not been identified, and police are seeking information by releasing images from security cameras.
In fact, this isn't the first time potatoes have caused problems. In July of this year, there was an incident in which a customer who quarreled with a clerk over the amount of salt on the potato threatened the clerk with a gun, and in 2019, he argued with the clerk that the potato was cold. There was an incident in which a customer was assaulted by throwing a drink and finally brought a gun from a car and fired.