Last Updated on 11/10/2021 by setagayablueocean
Ariana Grande pays homage to the costumes of the movie "13 Going on 30", which she professes to love.
Season 21 of "The Voice" is the first live broadcast
Ariana Grande, who will launch the cosmetics brand r.e.m. beauty on November 12, has recently been focusing on activities other than singers, and will be judged in season 21 of the popular US audition program "The Voice". Appeared as a member.
Season 21 of "The Voice" has already been broadcast overseas, and Ariana's costumes are also attracting attention.
Season 21 of such "The Voice" was broadcast live for the first time, and Ariana wore a dress influenced by a certain movie on this special stage. The movie is the movie "13 Love 30 Sirtin Love Thirty," which Ariana professes to be her favorite.
Homage of "13 Love 30 Sirtin Love Thirty"
Published in 2004 and starring Jennifer Garner, "13 Going on 30 Sirtin Love Thirty" is important even though a 13-year-old girl suddenly becomes a 30-year-old adult woman one day. A movie depicting the appearance of finding. Ariana is a fan of the movie and has recreated a scene from the movie in the music video for her blockbuster song "Thank U, Next."
Ariana wore the Versace dress worn by Jennifer Garner, who starred in the play "13 Going on 30 Sirtin Love Thirty," on the special stage of her first live broadcast. ..
Versace designer Donatella Versace also responded to this, and released a comparative image of Ariana and Jennifer on Instagram.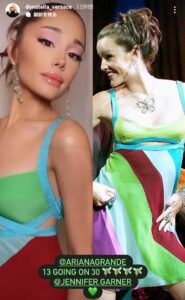 This dress is from 2003, but it is a pretty beautiful item because it was treated with great care. Ariana didn't wear a butterfly necklace, but she wore earrings similar to Jennifer and had a similar hairstyle to make a complete copy of the 13 Going on 30 Sirtin Love Thirty outfit.