Last Updated on 04/28/2022 by てんしょく飯
Donald McDonald, spotted in Alabama, USA, looks scary or funny…
Donald, why on earth did you look like that…?
Donald McDonald, the mascot character of McDonald's, has not appeared in many commercials and advertisements recently. However, a recent sighting of Donald McDonald in Enterprise, Alabama, U.S.A., has caused a shock. Here is one photo posted on the U.S. message board site Reddit with the comment, "A statue of Ronald McDonald (*) in front of a McDonald's in my city.
*Donald McDonald is named Ronald McDonald in the United States.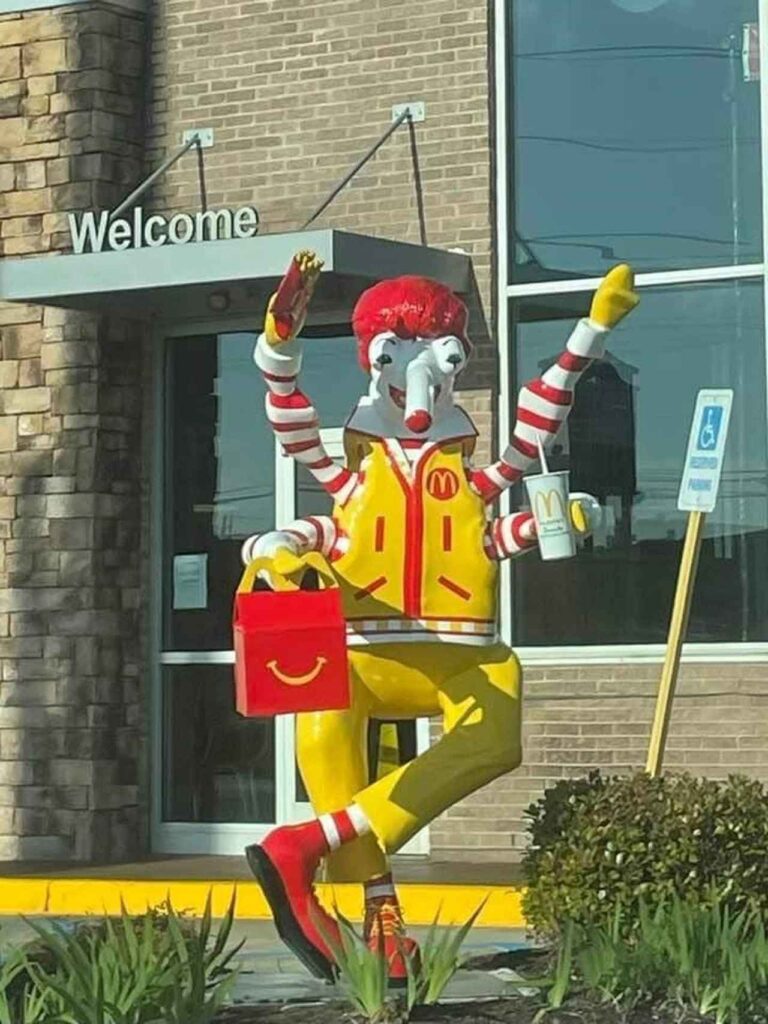 Donald, when did you get four arms…!
The two upper arms are in a banzai-like pose, and the two lower arms are holding what appears to be a drink and a Happy Set box, making Donald, at first glance, look like a jolly Donald. However, it is not only the arms that are different from those of normal Donald, but also the eyes are positioned at both ends and the nose is Pinocchio-like. So the clown makeup and the big smile made by his bright red lips…, scary!
Other users who saw the photo commented with humor, "I am not lovin' it," in reference to the famous McDonald's catchphrase, "I'm lovin' it," or "I am not lovin' it," since it was posted just on April 1. Some commenters thought it was April Fool's Day, since it was posted on April 1.
And this Donald, as expected, was not official. The statue, named Ronald McWeevil, was one of the works created by the Weevil Way, a community art project in Enterprise.
McWeevil's "weevil" is taken from Boll weevil, which refers to the cottontail weevil. According to Newsweek, the cotton weevil, which eats cotton and flowers, migrated from Mexico to the U.S. in the 1800s and affected a vast area of cotton fields. Each field in Enterprise was also damaged, but one seed supplier brought peanut seeds to the area instead and was able to recover from the damage. A wide variety of crops have also been grown on Enterprise since then, and it is now believed that the cotton weevil has allowed it to flourish.
The Weevil Way website has photos of statues made with the cottonwood weevil as well as Ronald McWeevil, and the quality of the statues is high.