Last Updated on 05/08/2022 by てんしょく飯
Nissin Foods' "Cup Noodle," a well-known product in Japan, has collaborated with an overseas cosmetic brand! We introduce a unique collaboration collection that is creating a buzz on SNS.
Cup Noodle" from Japan collaborates with a cosmetic brand!
In the overseas cosmetic market, where collaborative cosmetics are frequently released to the excitement of social networking sites, the number of unexpected collaborations between food brands and cosmetics has been increasing recently. In the past month or two alone, the world's largest doughnut chain "Dunkin' Donuts" and "PEEPS," a popular Easter candy overseas, have collaborated with popular cosmetic brands.
One such new collaboration from an overseas cosmetic brand is a unique collaboration with Nissin Foods' "Cup Noodles.
Cup Noodle" by Nissin Foods Group, one of Japan's leading food companies, is known as the pioneer of instant noodles and loved in more than 80 countries around the world. The collaboration with "Cup Noodle" was realized by HIPDOT, a vegan cosmetic brand from LA.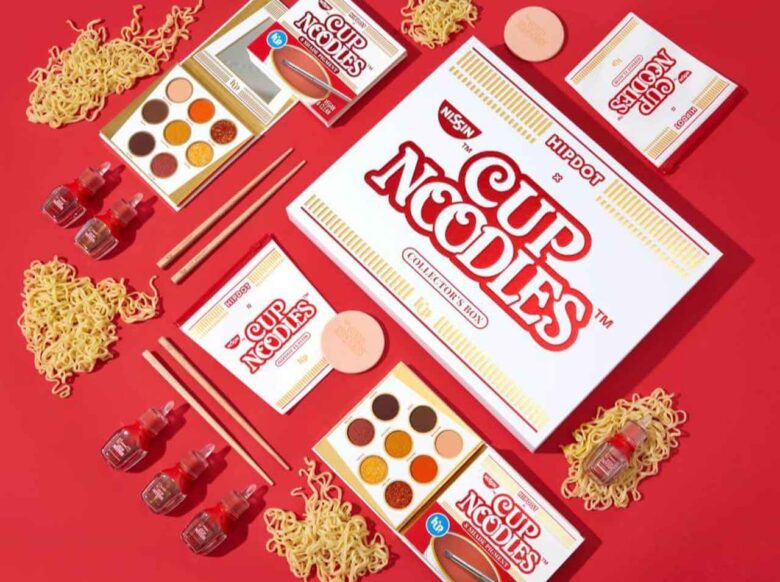 HIPDOT has collaborated not only with popular characters such as Hello Kitty and Sponge Bob, but also with the board game "Monopoly" and the salsa hot sauce "Tapatio," and has a reputation as a brand that releases unique collaborative cosmetics, so this "Cup Noodles" collaboration was immediately talked about! The "Cup Noodles" collaboration was immediately a hot topic of conversation. The "Cup Noodle" collaboration immediately became a hot topic of conversation on social networking sites such as Instagram, where there was a flood of comments of surprise and requests for the product.
The design and colors of "Cup Noodle" are now available in cosmetics!
The "CUP NOODLES" and Hip Dot collaboration collection includes three items: a multi-color eyeshadow palette with eight colors in one, a tint that can be used for both lip and cheek, and a limited-edition collector's box.
The CUP NOODLES PIGMENT PALETTE eyeshadow palette features the "NISSIN" mark with a bowl and the familiar "Cup Noodles" logo.
The colors include warm colors such as terracotta and mustard, and the names of the colors are inspired by ramen flavors and ingredients such as soy sauce, spicy chili, corn, and carrots. The eyeshadow palette is a unique addition to the "CUP NOODLES" collaboration.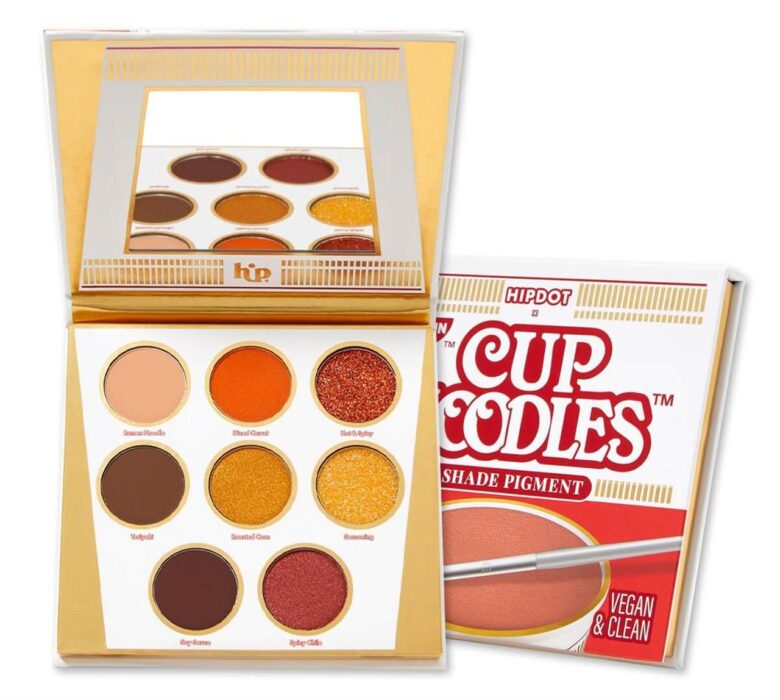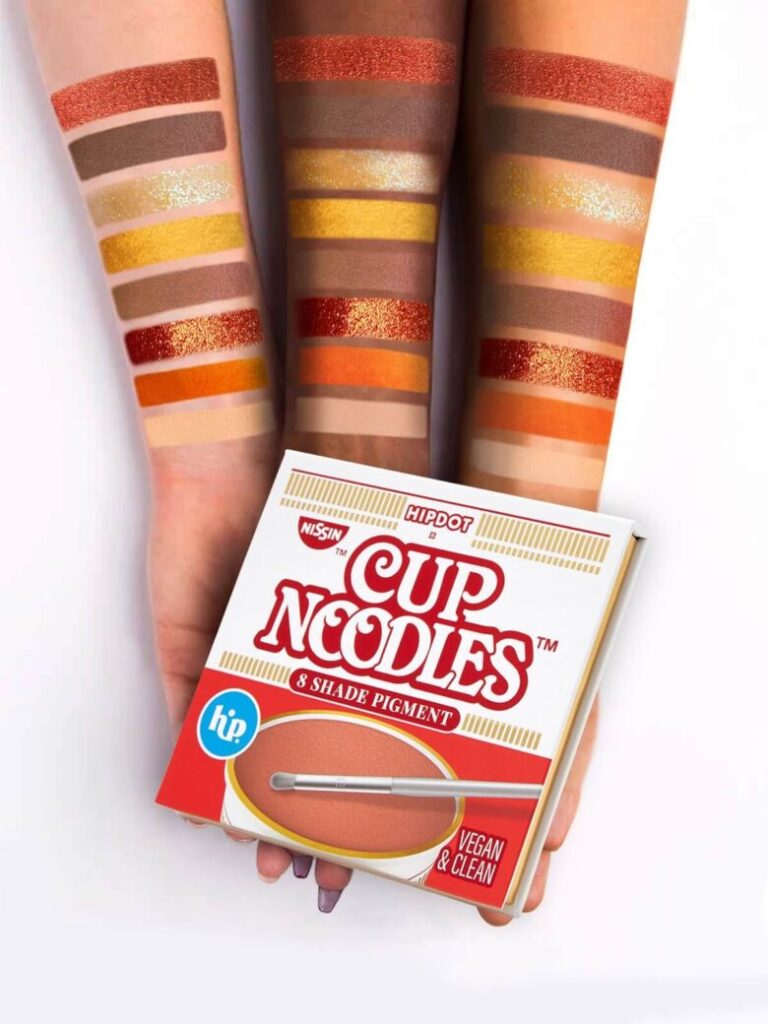 The tinted "CUP NOODLES LIP & CHEEK SET" is a set of three tints for both lips and cheeks. With a lineup of three colors in bright red, orange, and gold, this item is perfect for summer makeup that looks great on tanned skin.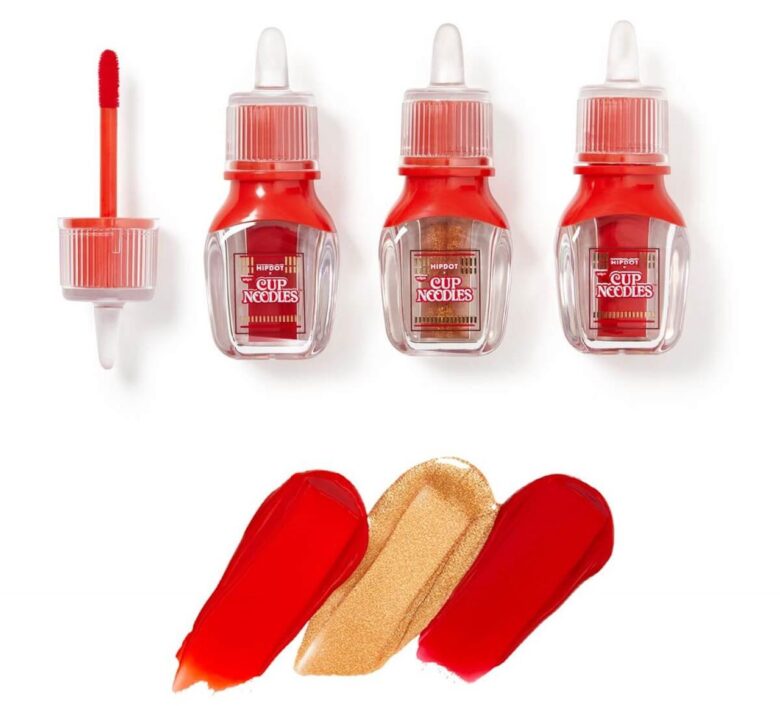 And the "CUP NOODLES LIMITED EDITION COLLECTOR'S BOX" is a luxurious box that includes an eyeshadow palette and tint set, as well as a limited edition designed pouch, puff and chopsticks. The design of the pouch and box was based on the "Cup Noodle" package design.
Unfortunately, the collaboration cosmetics between HIPDOT and Nissin Foods' "Cup Noodles" will only be available in the US and Canada, with prices ranging from $22 (about 2,800 yen) to $58 (about 7,500 yen). It will be interesting to see how they sell.