Last Updated on 01/23/2023 by てんしょく飯
The 18th La Liga match was held on January 22nd between Barcelona and Getafe.
 Barcelona is currently leading La Liga.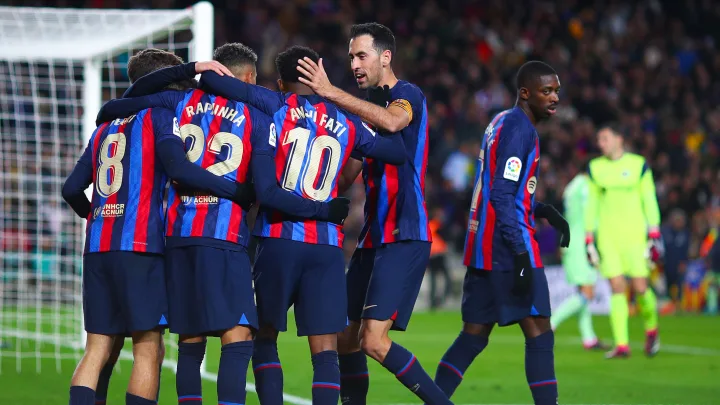 Real Madrid lost the previous game against Villarreal, so they are now three points behind the second place team.
They are currently unbeaten in eight official games, and will be looking to build on their three points against Getafe, who are currently in the bottom half of the table. The starting lineup includes Pedri, Gabi, and Ansu Fatih.
The home team took control of the match from the start, and in the 7th minute, Alejandro Balde ran up the left flank, crossed to the center, and Ousmane Dembele fired home a shot from the edge of the box. On the half hour mark, Gabi had the ball in front of the penalty area and swung in a left-footed shot that was caught by goalkeeper David Soria with little impact.
In the 32nd minute, Getafe played the ball down the right flank and Enes Unal headed it into the space behind the final line. The goalkeeper had a one-on-one chance with a looping shot, but Marc-André Thea Stegen was there to stop him.
The game was level in the 35th minute when Barcelona broke the deadlock. Andreas Christensen won the ball in the enemy box and sent a direct through ball to the left side of the box, where Jafinha was able to turn it into the center of the box. Pedri, who was running into the penalty area, pushed the ball home to put Barcelona ahead. The first half ended as it did.
In the second half, Barcelona continued to dominate possession, and in the 59th minute a loose ball on the left of the penalty area found Dembele, whose right-footed shot was just wide of the target, and in the 85th minute Dembele received the ball on the right and cut in to the middle, where Franck Kessier was on hand to finish the ball off. The goalkeeper Soria was able to keep the ball out.
Time expired. Barcelona won their fourth straight game and their fourth straight La Liga win, keeping their grip on the top of the table. Getafe, on the other hand, has now lost two straight La Liga games.
Barcelona will now face Takefusa Kubo's Real Sociedad in the Copa del Rey in midweek, followed by a La Liga match against Girona on January 28. Getafe will host Betis on January 28.
Score
Barcelona 1-0 Getafe
Goal scorers
1-0 35 min Pedri (Barcelona)