Last Updated on 02/01/2023 by てんしょく飯
Bayern announced on January 31 that they have acquired Portuguese defender Joao Cancelo from Manchester C on loan until the end of the season.
 On "deadline day," Bayern made one of the biggest deals of the winter.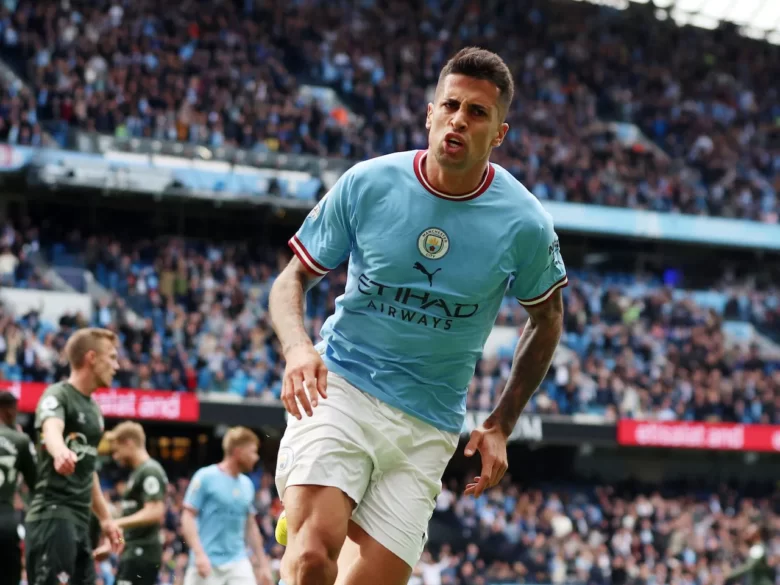 According to Athletic, the deal includes a 70 million euro buyout option. Bayern has already decided to name him "22" this winter. Bayern has already acquired Swiss goalkeeper Jan Zomer from Borussia MG and Dutch defender Daley Brint on a free transfer this winter, and Cancelo will be the third addition to the squad.
According to this report from Athletic, Bayern has been following Cancelo's movements for many years. Currently, Bayern has Moroccan defender Nouzea Mazraoui, who has been forced to leave the team with a mild case of pericarditis. French defender Luca Hernandez is out for the season with a torn anterior cruciate ligament in his right knee, and Benjaman Pavard has been linked with a move at the end of the season. It seems that the club decided to acquire Cancelo in anticipation of being short-staffed not only this season but also in the future at the sideback position.
Upon joining Bayern, Cancelo made a statement on the club's official website, saying, "Bayern is one of the biggest and most successful clubs in the world.
Bayern is one of the biggest and greatest clubs in the world. To be able to play with such great players is a great motivation for me. I know that this club and this team live for titles and win them year after year. And I am driven by the desire for success too. I will do my best for Bayern."
Cancelo was born on May 27, 1994 and is now 28 years old. He comes from Benfica's lower division and made his first-team debut in January 2014. Since then, he has played for Valencia, Inter and Juventus. He was named in the Serie A Best Eleven in the 2017-18 season with Inter and the 2018-19 season with Juventus.In the summer of 2019, he joined Manchester C on a full transfer in a trade for Brazilian defender Danilo. In his first season with the club, he often gave up his position to England defender Kyle Walker, but under Josep Guardiola, he broke new ground as a "false back" and from the 2020-21 season, he will be a mainstay at left and right back. In the 2020-21 season, he became a mainstay at left and right back, helping Manchester C win back-to-back Premier League titles.
In February 2022, he extended his contract until the summer of 2027, and changed his number to "7" this season. Since the beginning of the season, he has been gaining position mainly at left back, and has scored two goals and provided five assists in 26 official appearances so far this season. However, since the beginning of the 2023 season, his position has been declining in the pecking order, and he has lost his place to U-19 England defender Rico Ruiz and Dutch defender Nathan Ake. He warmed the bench for three consecutive games in the most recent official season, leading him to inform the club of his desire to transfer.
He also made his debut for Portugal in September 2016, and was selected for the Portugal squad at the FIFA World Cup Qatar 2022, where he played in four matches, excluding the first round match against Switzerland. In total, he has played 41 games for Portugal, scoring seven goals and providing six assists.