Last Updated on 12/12/2022 by てんしょく飯
The Qatar World Cup, which started on November 20 (local time), has reached its climax with the final four finally being selected.
Female supporter Ivana Knoll has over 2 million followers on social networking sites.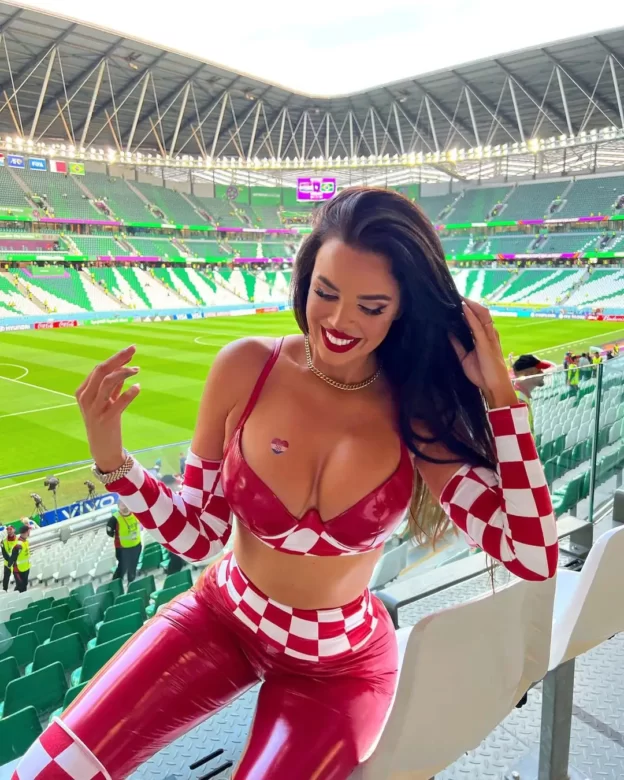 Croatia won a penalty shootout against Brazil on December 9 to advance to the semifinals. Ivana Knoll, a female supporter of Croatia who has been called the "most beautiful fan" of the tournament, announced on her Instagram page that she now has more than 2 million followers on her social networking site.
The 30-year-old, who is not only a model but also an influencer, has appeared in bold costumes at every match in which the Croatian national team has participated. She cheered for her country in a style that caught the eye more than anyone else, and became instantly popular when media outlets around the world picked up on the story. He was soon the most popular figure in the international media. "Finally, I have over 2 million followers on Instagram, thank you all so much! I love you all!" She wrote in words of gratitude.
Her rapid increase in followers was noticed by the international media. El Heraldo de Mexico, a national daily newspaper in Mexico, reported the following with an expression of surprise.
Ms. Knoll is creating a sensation around the world. Her charismatic appearance at the World Cup in a daring outfit caught the attention of many people. Thanks to her media exposure, her number of followers on social networking sites has further increased."
The Croatian team will clash with Argentina on December 13 for a place in the final. The Croatian team will play Argentina in the finals on December 13, and Ms. Knoll's fashion will once again be in the spotlight.