Last Updated on 01/03/2023 by てんしょく飯
On Sunday, January 1, the New York Giants clinched their first playoff berth since 2016 with a convincing 38-10 victory over the Indianapolis Colts.
Giants fans sang a serenade to quarterback (QB) Daniel Jones for bringing about that result.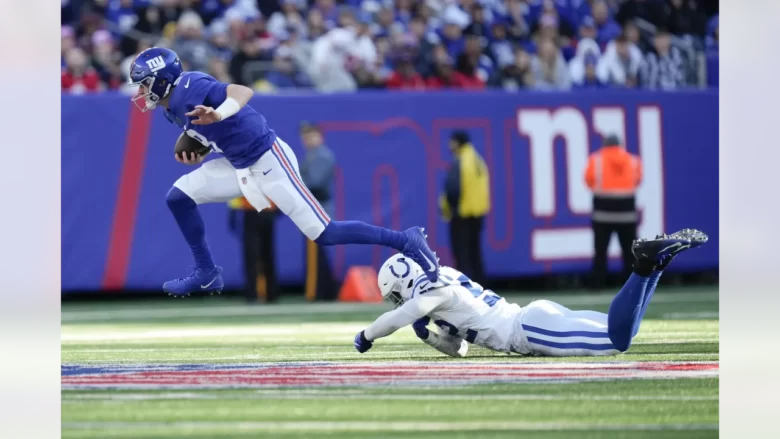 With about 7:30 left in the game, head coach (HC) Brian Daboll took Jones off the field during the drive. At that point, Giants fans went crazy for their team's quarterback, and teammates flocked around him.
Jones said of those curtain calls, "That was a special moment. A lot of guys who put in a lot of hard work. Definitely, we've been through some tough times, and it sure feels good to be on this side of it. A special moment with those guys. I'm really proud of this team and proud of what we accomplished today. I'm just grateful to be a part of it."
This is a great turnaround for Jones. Jones, a Duke University graduate, was not exercised his fifth-year option by the team after struggling through the first three seasons of his career in a lackluster offensive lineup. However, Jones has found a way to thrive under HC Daboll's leadership, and he has solved the turnover problem that has plagued him, showing a high degree of accuracy and an understanding of when to take advantage of his evasive skills.
Sunday's performance, which clinched a playoff berth, was the culmination of that growth. Jones completed 19 of 24 pass attempts for 177 yards, two touchdowns, and zero interceptions, and also ran for 91 yards and two touchdowns. The game against the Colts was Jones' third game this season in which he had two or more touchdown passes and zero interceptions. Jones had never had a game with such a result in his previous two seasons.
Because of Jones' excellent play, the Giants front office now has the responsibility of re-signing both Jones and running back (RB) Sakewan Barkley during the offseason.