Last Updated on 01/24/2023 by てんしょく飯
The Dallas Cowboys suffered an injury in their Divisional Round game against the San Francisco 49ers on Sunday, January 22.
Running back (RB) Tony Pollard, a Pro Bowler, suffered a major injury.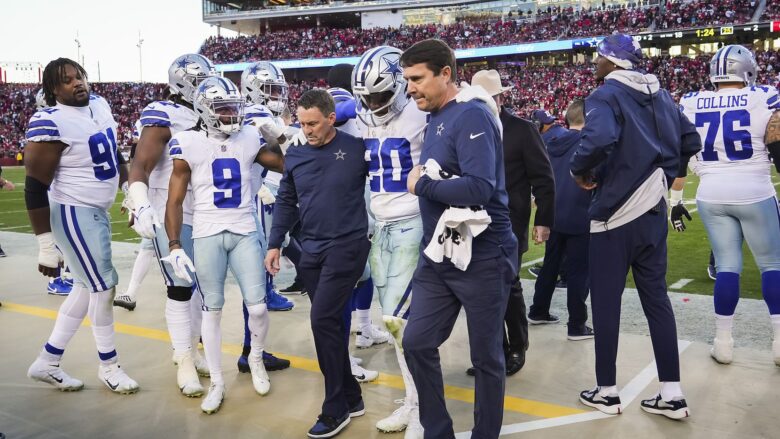 Pollard suffered a high ankle splint at the end of the second quarter in addition to a broken leg after being tackled. Ian Rapoport of the NFL Network reported Monday. Rapoport added that a three-month recovery period is expected.
Pollard, who was selected to the Pro Bowl for the first time in his career in 2022, had 193 carries for 1,007 yards as one of the twin heads of the Cowboys' rushing attack. He had 38 fewer carries than his running mate, Ezekiel Elliott.
Entering his age 26 season, Pollard is about to become a free agent. He ranks 20th on Greg Rosenthal's Top Free Agents for 2023. While Elliott's lightning bolt is also in effect due to Pollard's ability to slip quickly between defenses, the decision to re-sign or use the franchise tag could be complicated by his recovery. new opportunities during the free agency period, which begins on Wednesday, March 15. If Pollard is allowed to look for a new opportunity, the market for Pollard will be affected by whether or not he is back to full health at that time as well.
In the 19-12 loss to the 49ers, the Cowboys' running attack was shut down throughout the game. Pollard had 22 rushing yards before leaving the game; QB Dak Prescott had his second interception of the day on the next play, and the Cowboys only gave the ball to their running backs six times after Pollard left the game.
Pollard's breakout season was also the season in which Elliott failed to record 100 rushing yards in a single game. Elliott has not topped 100 yards in a single day since Week 5 of the 2021 season. That has clouded the Cowboys' backfield situation, especially after Pollard was injured.
Elliott, who will be 28 at the start of next season, is the third highest-paid running back under contract, according to Over the Cap.
The Cowboys already have the difficult problem of how to keep one or two running backs on the roster. The difficulty of that problem just got even more difficult.
With Sunday's loss, the Cowboys' offseason has officially begun. The big problems have also just begun.