Last Updated on 01/25/2023 by てんしょく飯
Newcastle is serious about acquiring Everton's U-21 England midfielder Anthony Gordon, according to a January 24 report from English media outlet Sky Sports.
 Gordon, now 21, is Everton's freshman winger.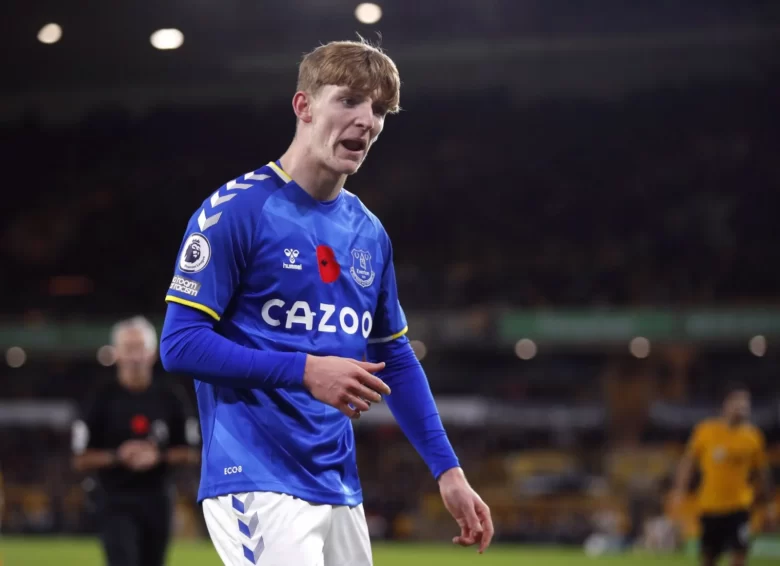 He made his top flight debut in December 2017, and in the 21-22 season after returning from military training, he made 35 Premier League appearances, scoring four goals and providing two assists. This season, he changed his number to 10 and has so far scored three goals in 18 official appearances.
In the summer transfer market, Chelsea offered Gordon up to 60 million pounds (about 9.6 billion yen), but Everton ultimately refused to sell. However, the club is now looking for a replacement for sacked manager Frank Lampard and is considering selling Gordon to another club and using the transfer fee to reinforce the new manager's wishes.
Newcastle have begun negotiations for Gordon, and on January 24, they made their first offer to Everton. The club released forward Chris Wood this winter, and it is believed that Gordon, who can play multiple positions up front, is being considered as a possible replacement.
Newcastle's leaders are confident that they can land Gordon this winter. Reports suggest that Everton, whose situation has changed since the summer, will be willing to sell this winter if an offer of around 40 million pounds (approximately 6.4 billion yen) is received. Gordon also apparently did not show up for Everton's training session on March 24. It is not clear whether this is a move toward a transfer, but suddenly there is a lot of noise around the young attacker.