Last Updated on 02/01/2023 by てんしょく飯
The Coppa Italia quarterfinals were held on January 31, with Inter taking on Atalanta.
 The only one of the four matchups to be held on January 31, last season's champions Inter clashed with Atalanta, currently in fourth place in the Serie A standings.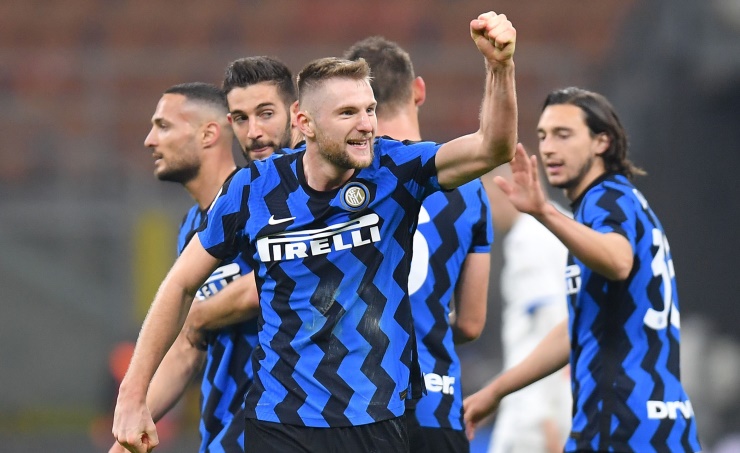 Inter's starting lineup included Nicolo Barella, Lautaro Martinez, and Romelu Lukaku. For Atalanta, Jeremy Boga, Marten de Roon, and Duvan Zapata were all in the starting lineup.
The game was competitive from the outset. Atalanta won a corner kick on the left in the 5th minute, and Zapata headed the ball off the line from Toon Koopminers. The ball went just wide. Inter's goalkeeper Juan Musso denied the visitors a second goal in the 21st minute when Barrera picked up a loose ball on the edge of the box and tried a left-footed shot with his left foot.
Inter threatened the Atalanta goal in the 41st minute. After a breakaway from Zapata, Henrikh Mkhitaryan immediately put the ball in the path of a nearby defender, who was able to get the ball into the path of Hakan Chalhano, who fired home a shot from the edge of the box. The ball was met by Hakan Chalhanor, who swung in a left-footed shot from the edge of the box that hit the right post. Atalanta's second goal came in the 45th minute when Joaquim Möhle sent in a right-footed cross from high on the left side, which set Zapata free in the penalty area. Zapata was free in the penalty area and met the ball with his head, but his shot went just over the crossbar. The first half ended scoreless.
In the 57th minute, the ball was being passed around the opposition and, after a kick feint, Czarhanor made an outside pass to the center where the opponents were crowded. L. Martinez dropped the ball directly to Matteo Darmian, who took his first touch and drove the ball forward with his left foot into the net. Inter took the lead.
Atalanta, now one goal behind, made a move in the 64th minute with a free kick in front of the penalty area. Boga took the ball from a one-two and finished it himself, but his left-footed shot was just wide. Boga took the ball from a one-two with the ball, and his left-footed shot just missed to the right of the goal.
Atalanta continued to push forward, but were unable to find the equalizer, and time expired. Inter, last season's champion, was the first team to advance to the semifinals.
In the current Coppa Italia, only the semifinals are decided by the first leg and the second leg. The first two legs will be held on April 4 and 5, and the second two on April 25 and 26.
[Score.
Inter 1-0 Atalanta
Scorers
1-0 57th minute Matteo Darmian (Inter)