Last Updated on 05/19/2022 by てんしょく飯
Johnny Depp sued his ex-wife, Amber Heard, for defamation in court, and when he heard Amber's "a comment", Johnny couldn't help laughing.
Johnny Depp laughs at Amber Heard's comment.
Johnny Depp, an actor known for his "Pirates of the Caribbean" series of movies, sued his ex-wife, Amber Heard, for defamation.
As we have reported daily, Johnny is seeking $50 million in damages on the grounds that Amber accused him of domestic violence in a 2018 op-ed in the Washington Post, in which she did not mention him by name but identified herself as Johnny, which constitutes defamation. Amber, on the other hand, is also seeking $50 million in damages. Amber, on the other hand, countersued for $100 million, claiming that she was severely affected by Johnny's smear campaign designed to damage her career and reputation.
On May 17, local time, Amber took the stand again and was asked several questions by Johnny's lawyers about a fight while in Australia that led to the March 2015 finger amputation incident in which Johnny suffered a serious injury that resulted in the loss of part of his finger.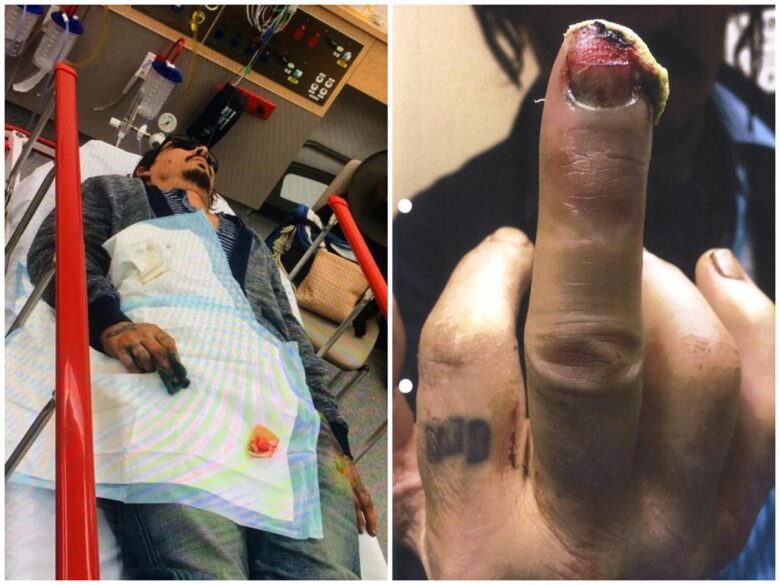 Johnny's lawyer asked, "What really happened?" When asked, Amber replied that even though Johnny was in treatment for drug addiction at the time, he had gone away with a bag of drugs, so she "knocked on the bathroom door" to check on him.
However, Johnny had stated earlier in the trial that he had locked himself in several bedrooms and bathrooms to get away from Amber, and his lawyer pointed out that "there was not one, but five bathroom doors, and two bedrooms. Amber's lawyer pointed out, "It's not one, it's five bathroom doors, and two bedrooms," to which Amber replied, "Johnny is not a historian to tell you exactly what happened at that time. I can vouch for that," she quickly countered.
Perhaps Amber's comment hit the nail on the head, as footage of the courtroom showed Johnny bursting out laughing uncontrollably.
Incidentally, the fight during their stay in Australia lasted for three days, and the finger amputation incident also occurred during this time. Johnny claims that his finger was injured by a vodka bottle that Amber threw after a heated argument, but Amber denies that she ever threw any bottle, including the vodka bottle. She testified that Johnny went on a rampage, breaking bottles and windows, and slammed a phone made of hard plastic against the wall and "cut himself on his finger. Amber also claims that Johnny raped her with a bottle of liquor while she was in Australia.