Last Updated on 02/16/2023 by てんしょく飯
Manchester C beat Arsenal 3-1 in the postponed game of the 12th round of the Premier League on February 15.
After the game, Manchester C's official club website reported comments from Norwegian international Erling Haaland.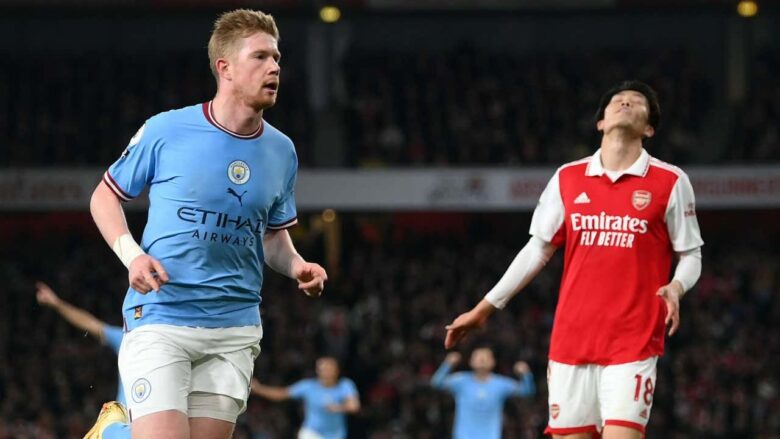 In the 24th minute of the match, Belgium midfielder Kevin De Bruyne, who did not miss a back pass from Arsenal's Takehiro Tomiyasu, put in a looping shot to give Manchester C the lead.
Despite a penalty kick by England midfielder Bukayo Saka to tie the game at the end of the first half, Manchester C's attacking force showed its true colors in the second half, bringing on Switzerland defender Manuel Akanji in the 61st minute, and after about 10 minutes, the visitors took the ball into their own half, and the final goal was scored by England midfielder Jack Grealish. Haaland scored the decisive third goal in the 82nd minute to seal the game. Manchester C is now tied with Arsenal with 51 points, one game ahead of the rest of the standings, and is now the provisional leader in the league standings due to the goal difference.
Haaland, who scored the third goal to give Manchester C the victory, referred to the "turning point" of the match. Pep [coach Josep Guardiola] made a few adjustments at halftime," he said. That's exactly what we did today.
With his goal against Arsenal, Haaland has now scored 26 goals in the Premier League this season. He has been scoring at a phenomenal pace, but "I have to keep doing my job. I have to keep doing what I do, and I will continue to play the best I can," he said.
Haaland continued, "Of course, there is no doubt that Arsenal is the best team this season. It's never easy to come here and play," he said of his opponent. But we played an even better game. It's a great feeling to get the three points that really matter and to be able to celebrate. In addition to being pleased with his team's victory in the big game, he also expressed his enthusiasm for the future.
We needed this one win. Now we need to keep going again. That's what City has to do. I will do my best as an individual and I know everyone else will do their best too."