Last Updated on 09/18/2023 by てんしょく飯
Popular British comedian Russell Brand, 48, who has hosted popular programs on various British broadcasters, including BBC programs, and has appeared in several Hollywood movies, has been accused by several women of rape and sexual assault, the Sunday Times and Channel 4 reported on September 16 and 17.
The Sunday Times and Channel 4 reported on September 16 and 17. Russell Brand has denied the allegations.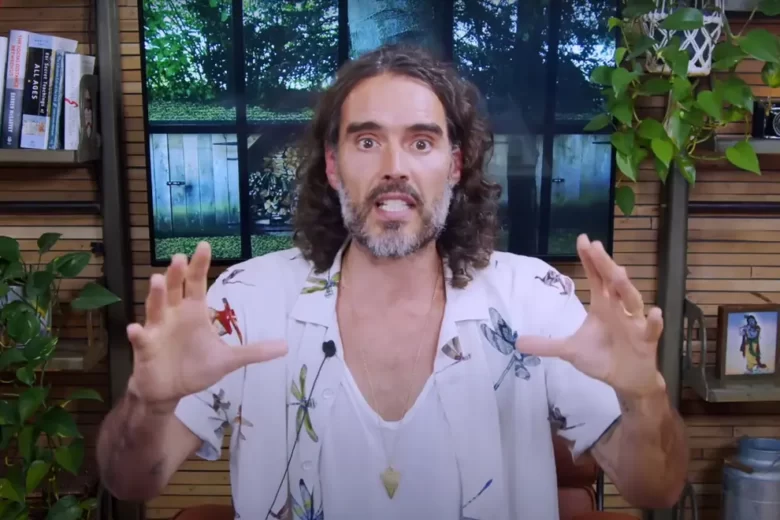 The Sunday Times, the Times and Channel 4 jointly conducted an investigative report on Russell Brand. According to the report, four women have alleged that they were victims of rape and other crimes between 2006 and 2013, when Russell Brand was at the height of his popularity.
Russell Brand has denied the reports and refuted them, saying that his relationships with women were "always consensual.
Born in Essex, England, Russell Brand began his career as a solo standup comedian around 2000, gaining popularity after hosting shows on XFM and BBC Radio. In the mid-2000s, he began hosting "Big Brother's Big Mouth," a program on E4 under Channel 4 that brought together celebrities to comment on the reality show "Big Brother. His fast-talking, quick-response, provocative style of laughter was well received, and this quickly made him a national star.
In 2009, she met popular American singer Katy Perry on a photo shoot and married her the following year, but the couple divorced two years later.
■He denies the rape report.
The Sunday Times and Channel 4 reported rape and sexual assault at the height of his popularity. Several women told interviews that they were followed by Russell Brand during this period and that they were subjected to controlling and aggressive behavior. Four of them claimed to have been sexually assaulted.
One woman claimed that she was pushed against a wall and raped in Russell Brand's Los Angeles home. She said she was treated at a rape victim center later that day. The Times wrote that it reviewed medical records that corroborated the women's claims.
The second woman said she was sexually assaulted when Russell Brand was in his early 30s and she was a 16-year-old student. This woman said that Russell Brand called her "that girl" and repeatedly subjected her to psychological assault and control.
 A third woman claimed that Russell Brand sexually assaulted her when they worked together in Los Angeles. She said that Russell Brand threatened to sue her if she told anyone.
The fourth woman said she was sexually assaulted and physically and emotionally abused by Russell Brand.
The relationship with the 16-year-old girl allegedly took place when Russell Brand was a BBC radio host.
On September 15, prior to the report, Russell Brand posted a video on YouTube and X (formerly Twitter) denying the "serious criminal allegations" being made against him. He stated that he had received several letters from TV stations and newspapers with offensive content, which he "flatly denies."
The series of letters are from my time working in the mainstream, and as I have made clear in my book, I had sexual relationships with a lot of people back then," Russell Brand said, "but the relationships were always consensual," adding that he is now the subject of "coordinated He also said that he was now the target of a "coordinated attack" and that he would take a close look at "this very serious situation.
Scotland Yard commented that they are aware of "media reports of multiple sexual assaults," although they would not name Russell Brand. However, it stated that it has not yet accepted the damage report.
He added that Scotland Yard "would like anyone who says they have been the victim of sexual assault, no matter how long ago it happened, to contact the police."
The Sunday Times explained that the women were ready to speak out because they were contacted by reporters. Several women, in particular, said they felt compelled to speak out because of Russell Brand's recent rise to new status online as an "influencer" of healthy living, the paper wrote.
According to the paper, the women claiming victimization do not know each other, and most of them wish to remain anonymous.
The Sunday Times said it provided Russell Brand with detailed allegations by the women in advance and asked him to respond within eight days. When offered the opportunity to respond further, Brand responded in the form of a YouTube video.
On September 16, when the Sunday Times and Channel 4 reports came out, Russell Brand performed a one-man show at a theater in northwest London as scheduled, about an hour into his tour. He stated to a packed audience of about 2,000 people that he had something to say but could not talk about it.
■ Controversy and Conspiracy Theories
Russell Brand has attracted a devoted following for his scathing comments about politics and society in general, and in recent years he has gained a cult following by posting videos based on various conspiracy theories on YouTube and other sites.
In 2001, before becoming a popular star, he appeared as a host of an MTV program on September 12, the day after the attacks in the U.S., dressed as Osama Bin Laden, and MTV cut his contract.
In 2008, he recorded a BBC Radio 2 show with another co-host during the show, on the actor's answering machine, about sexual matters, including a sexual relationship with the actor's granddaughter, because the actor who was scheduled to appear on the show was absent. More than 40,000 people protested the broadcast, the BBC was fined by the Broadcasting and Communications Authority (Ofcom), and the head of Radio 2 programming resigned. Russell Brand was dropped from the BBC program.
In recent years, he has gained new supporters by posting videos on YouTube about various conspiracy theories about the new coronavirus. He had established himself as a "sounding board" on health and healthy lifestyles.
Today, 4 million people on Instagram, 2.2 million on TikTok, and 6.59 million on YouTube follow Russell Brand's account. Russell Brand's video is titled, "Do a series of emails prove Biden is a corrupt liar?" , "What really started the fire in Hawaii?" and "This Is How Gender Norms Affect Men."
■Relationship with the BBC
The relationship with the 16-year-old girl who claims she was dominated and perpetrated by Russell Brand when she was 16 years old and Russell Brand was a presenter on BBC Radio 6 Music.
According to reports, Russell Brand frequently took off his clothes in the studio of his BBC radio show. According to Channel 4, Brand frequently made sexually explicit remarks on the air about the news anchor. For this, Russell Brand was later implied to have demanded an apology from the BBC program staff.
According to the Times, some people have complained to the BBC about Russell Brand's "outrageously offensive and disrespectful attitude.
In response, a BBC spokesperson said, "Russell Brand worked for several different organizations, the BBC being one of them. As is well known, Russell Brand left the BBC in 2008, citing serious editorial offenses. The same was true for the head of programming at Radio 2 at the time," he commented.
We inspected in detail at the time how the editorial rule violations were committed. I hope that this shows that the BBC takes these issues seriously and is prepared to take appropriate action.
The BBC has since evolved its approach to managing outside performers and addressing complaints and issues raised.
'We have clear benchmarks for what behaviour should be like in the workplace. We have clear standards for how we expect people to behave in the workplace, which are set out in our employment contracts, the BBC Code of Values, the BBC Code of Conduct and our Anti-Bullying and Harassment Policy.
The BBC spokesperson also explained, "If anyone raises any concerns about anyone who works for the BBC, whether they work for us now or in the past, we will always listen to what they have to say.
Big Brother's Big Mouth," hosted by Russell Brand, was broadcast by the E4 channel, a subsidiary of the British Channel 4.
A Channel 4 spokesperson told BBC News, "Channel 4 is stunned to learn of the highly regrettable allegations, including behaviour that is alleged to have occurred on programs made for Channel 4 between 2004 and 2007.
We intend to thoroughly understand the full extent of what happened. After a close examination of the documents, we have found no evidence to suggest that Channel 4 was informed of the events reported here.
We will continue to look into this matter as we receive further information, including the stories of those affected. We will be contacting the production company that made the program for Channel 4 and asking them to investigate what was reported and to properly and fully report their findings to us," Channel 4 said.