Last Updated on 04/03/2022 by てんしょく飯
The " L.L. Bean " and "Converse" collaboration sneakers sold out in just 15 minutes when they went on sale at the official online store last year. Many fans must have been in tears. In fact, there were many calls for a re-release, and this April, a re-release has finally been decided! If you were unable to get them last time, don't miss out.
This is the perfect footwear for American casual, outdoor, and other trendy styles!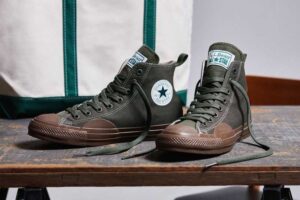 Based on the "All Star 100," which is equipped with specifications that have evolved to make it tough and comfortable, this pair of rugged brown and olive-colored shoes is a must-have. The wild look and archival details from the 90's are sure to make fans of both brands drool. The water-repellent laces and canvas uppers make them resistant to sudden rain and dirt, and you can feel the toughness of their specifications.
Especially these days, masculine American casual and outdoor styles are gaining popularity as a derivative of street trends. We can see this collaboration sneaker looking great. They are the perfect way to get a head start on this year's fashion. Naturally, they will inevitably sell out immediately, and the next pair may not be available any longer, so don't miss out. We urge you to stay informed and be prepared for the release of the new product.
The original logo tag that symbolizes this collaboration sits on the shoe tongue. L.L.Bean" is engraved on the first pigeonhole, and the attention to detail can also be seen.
The toe cap and semi-circular rubber parts are also highlights of the design, which follows the 90's design.
Despite the tough look, the shoes are comfortable to wear. The React cup insole with excellent resilience and breathability reduces fatigue even after long hours of wear.
Even the shoe box is as you can see. Shoe boxes tend to be bulky and neglected, but with this one, you can leave it as it is as a stylish interior.