Last Updated on 06/09/2022 by てんしょく飯
Singer Billie Eilish performed a new song for the first time out of the blue at a concert in Manchester.
Billie performs a surprise performance of an unreleased song.
Billie Eilish will begin a world tour in February 2022 in support of her second album, "Happier Than Ever.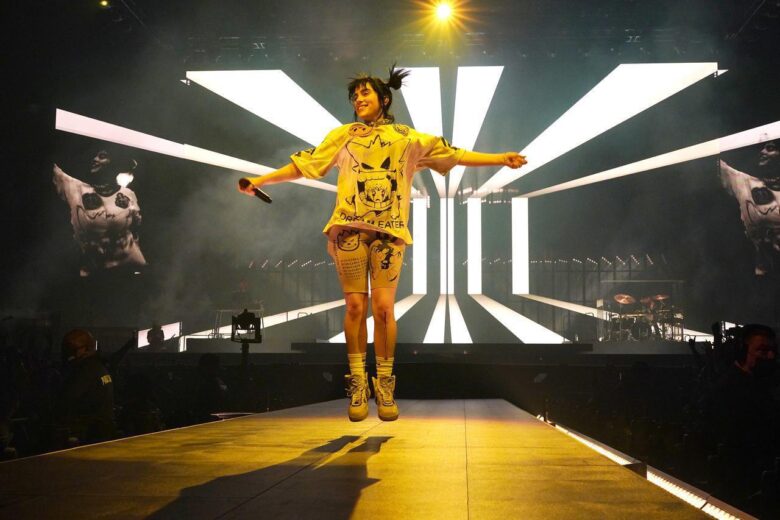 Originally, Billie was scheduled to begin a world tour in March 2020 with his debut album "When We Fall Asleep, Where Do We Go? This will be Billie's first full-scale tour.
Billie, who has delighted many of his fans by performing more than 20 songs at his current concert in Europe, including his biggest hits "Bad Guy" and "Bury a Friend," made a surprise announcement of a new song at his performance in Manchester.
Billie's new song is titled "TV," and before performing the song he told NME, "We haven't performed a new song live before it was released since 2017 or 2018. This is something we just wrote and we wanted to play it for you guys," he said, performing the new song "TV" for the first time with his brother and collaborator Phineas O'Connell on guitar in the background.
Billie Eilish killed it in Manchester tonight and I'm a mess and she debuted her new song TV and I am finished pic.twitter.com/sLHWiYZMZQ

— Katie Whyatt (@KatieWhyatt) June 7, 2022
The song features the lyrics, "The internet is going crazy over the trial of a movie star/while the Roe v. Wade decision is about to be overturned," and is a direct result of the recent trial between Johnny Depp and Amber Heard and the 1973 decision by the U.S. Supreme Court in early May 2022, when the U.S. There were also lyrics about the leaked draft of a decision to overturn the Roe v. Wade decision, which granted women the right to abortion.
Billie has not announced when he will release his new song "TV," but it will be his first new song in about a year, as his last release was "Happier Than Ever" in 2021.