Last Updated on 07/04/2022 by てんしょく飯
The "Stranger Things" writing team has released an off-screen photo of Natalia Dyer, who plays Nancy, and Charlie Heaton, who plays Jonathan, who are also in a private relationship.
Changes in Nancy, Jonathan, and Steve's relationship in Season 4
The Netflix drama "Stranger Things," which has finally released all episodes of Season 4, is a worldwide hit. Drama productions often become less interesting as the seasons get longer, but Season 4 of this film has been so well received that it is no exaggeration to say that it has surpassed its predecessors.
The story of Season 4 took a major turn as the secrets of the world behind the scenes were revealed in preparation for the final chapter, Season 5, and the events of Season 1 were connected to the present in various ways.
Among them, the relationship between Nancy, played by Natalia Dyer, Steve, played by Joe Keery, and Jonathan, played by Charlie Heaton, is one that will be interesting to see what happens in Season 5. Nancy, many viewers would have been able to relate to some of the drama, even if the drama was set in the 80s.
.
In particular, the possibility of Nancy and Jonathan breaking up in the future is a concern for fans of the two, but the relationship between Natalia and Charlie, as played by Natalia and Charlie, seems to be going perfectly well!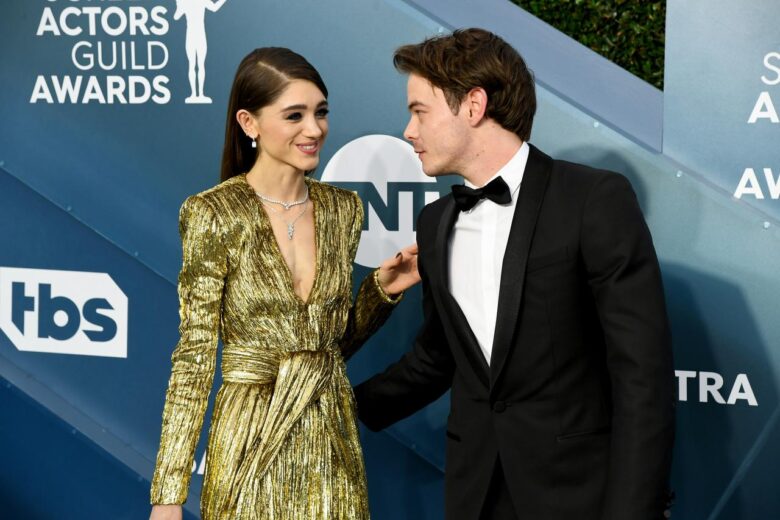 Natalia Dyer and Charlie Heaton have been dating for over 5 years.
Natalia and Charlie, who met after working together on the film and announced their relationship in 2017, have been dating for more than five years. Recently, they have not been seen together at any events due to the Corona disaster, so some people thought they might have broken up, but they were caught on camera at the after-party of the Season 4 premiere getting along well.
Natalia Dyer, Charlie Heaton, Joe Keery, and Finn Wolfhard at the after party! 🎉 pic.twitter.com/ZfOONBlDXR

— best of natalia dyer (fan account) (@badpostnatalia) May 15, 2022
Since the two had very few scenes together in Season 4, it was during the filming of the final scene of the last episode that they were photographed, judging from their costumes.
In the photo released by the drama's writing team with the comment "these two," Charlie sits on top of a car, and Natalia stands in front of him, smiling!
The expressions on their faces, the distance between them, their poses, everything about this one is adorable. Since Natalia is from the U.S. and Charlie is from the U.K., they may have been in a long-distance relationship at the Corona Disaster, or they may have even lived together. Whatever the case, they still seem to be in love as far as this smile is concerned.
Incidentally, Natalia said of Nancy's future, "I would like to see a reasonable development for Nancy. I don't want her to get together with someone out of necessity. I don't want her to get involved with someone out of necessity.