Last Updated on 12/01/2022 by てんしょく飯
Superstars led the way for the struggling team. Argentina, the favorites to win the Qatar World Cup First Round League, Group C, defeated Poland 2-0 in their final match on November 30 to advance to the final tournament.
The team had an uneasy start, losing to Saudi Arabia in their first match.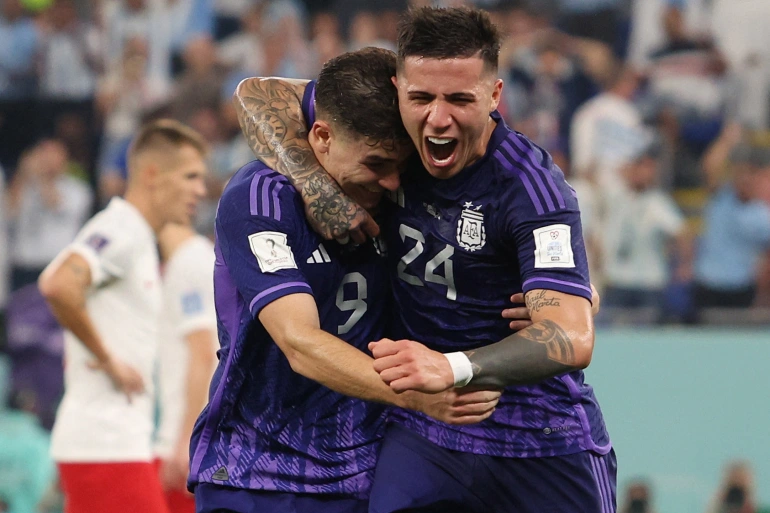 From the second game onward, the team showed its true potential. The world-famous boxer apologized for his harsh criticism of the ace player Lionel Messi (35=Paris St. Germain).
Messi, who has now played 22 World Cup matches, surpassed the late Diego Maradona's record of 21 matches to become the most decorated player in the country's history. Messi missed his own penalty kick in the 39th minute, but midfielder Alexis Makaritel (Brighton) put the visitors ahead one minute into the second half. The team won the match with a goal from Julian Alvarez (Manchester City) in the 22nd minute.
Argentina, who traveled to Qatar as the favorites to win the tournament, failed to beat Saudi Arabia 1-2 in their first match, and there were concerns that they might not make it past the first round. Nevertheless, the captain who led the team said, "We were not punished [for the first-round loss]. The strength of the team is that everyone knows what to do," he said. "We must prepare as usual for the first round of the final tournament (December 3) against Australia.
On the other hand, when a video of Messi seemingly kicking Mexico's uniform with his foot in the locker celebrating his victory after the second match was shown on social media, Saul Alvarez, the four-time boxing champion and "Canelo" of Mexico, said, "I'm wiping the floor with Mexico's uniform. I saw him wiping the floor with a Mexican uniform. He said, "I saw him wipe the floor with a Mexican uniform. Messi did the worst," which caused a furor.
The Mexican midfielder Andrés Guardado (Betis) sought to settle the matter, claiming that it is common for laundry to be placed on the floor and that "it is not something that should be considered important," but Alvarez apologized on November 30 on social media, saying that he had become carried away by his love for his country and made the comment out of place. The off-the-pitch turmoil was also over. Messi is on his way to winning his first World Cup in his "last World Cup.