Last Updated on 06/19/2023 by てんしょく飯
Emily Rudd, who plays Nami in Netflix's live-action Hollywood version of "One Piece," has been watching a lot of Japanese anime in addition to "One Piece.
Emily Rudd, who plays Nami in the Hollywood live-action version of "ONE PIECE
Emily Rudd plays Nami, one of the Straw Hat gang, in the Netflix drama "ONE PIECE," Hollywood's live-action adaptation of Eiichiro Oda's worldwide hit manga "ONE PIECE.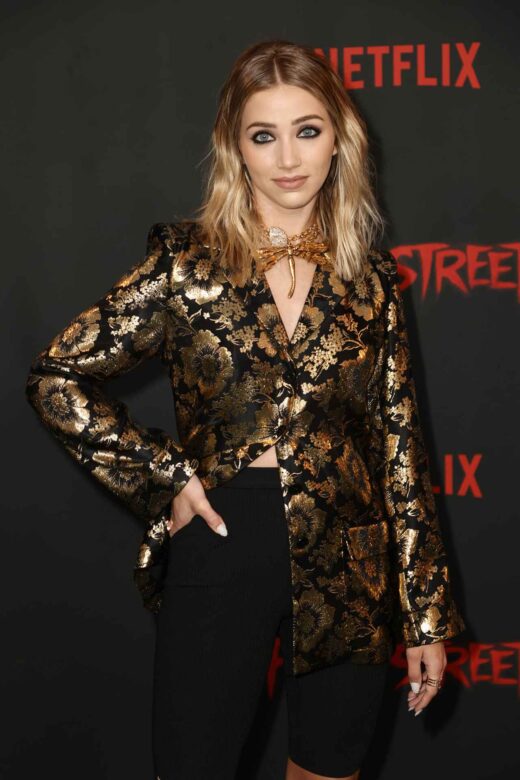 Emily has been an avowed fan of "ONE PIECE" since before she was cast, and when her role was announced, she commented on Instagram, "I can't say much because words can't convey it, but it's really great," and wrote of her joy, "It really is like a dream come true.
Teaser Trailer for "One Piece
Emily Rudd's Instagram Call for "Anime Recommendations" Results
Emily has often posted pictures of scenes from "One Piece" on Instagram in the past, and she seems to have read a lot of the film, but she is quite a fan of Japanese anime and has watched many other works.
In March 2022, Emily revealed on social media that she was watching "Marching Giants," and to find other anime to watch, she asked fans on Instagram Stories, "Which anime should I watch?" on her Instagram Stories to find other anime to watch.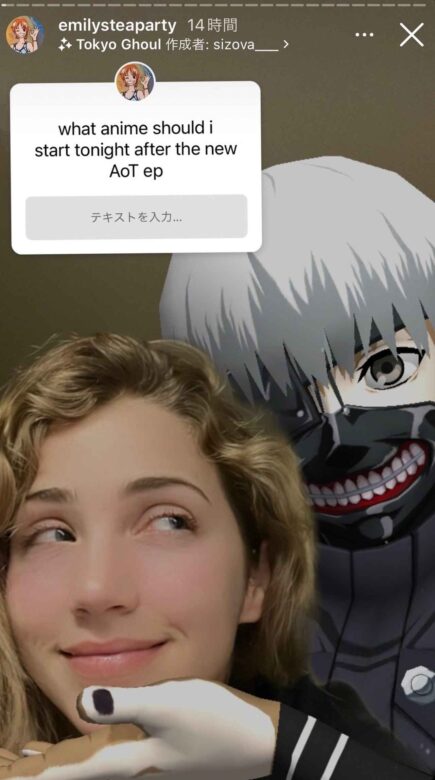 Fans then flooded the site with recommendations. First, the anime "Horimiya" and "Jujutsu Kaisen" were recommended to her, but it seems that she has already watched these and "I love them both," Emily said. She continued with a recommendation for "April is Your Lie," to which she responded, "I've seen it. It's great. I cried so much. She also responded to a recommendation for "Stray Dogs" by saying, "I love it, and I want to kiss Dazai (the character).
Emily's "already watched" reports did not stop after that. When "Dororo" was recommended, she replied, "I always recommend this work to all new anime viewers. I always recommend this work to all new anime viewers. I love it.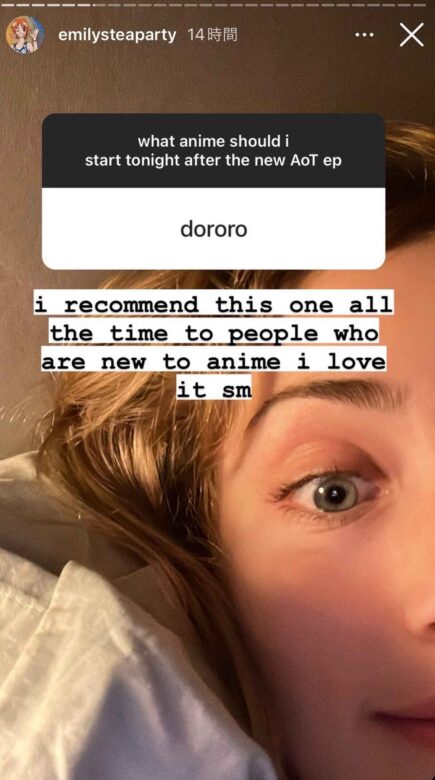 She also revealed that she has already watched all of the anime recommended to her. In a series of posts on Instagram Stories, Emily revealed that she has watched "Erased, known in Japan as Boku dake ga Inai Machi," "Psycho-Pass," "Noragami," "Fullmetal Alchemist: Brotherhood," " Dr. Stone," "Mushishi," "Sonny Boy," "Made in Abyss," "HUNTER x HUNTER," "DEVILMAN crybaby," "The Promised Neverland," and "Fruits Basket.
When a fan commented on the huge list of films she has seen, saying, "You've seen all the ones I recommended," she replied, "Hahaha, but I've never seen any of them. But I've also received some new anime (that I haven't seen before), so I'm excited! said Emily.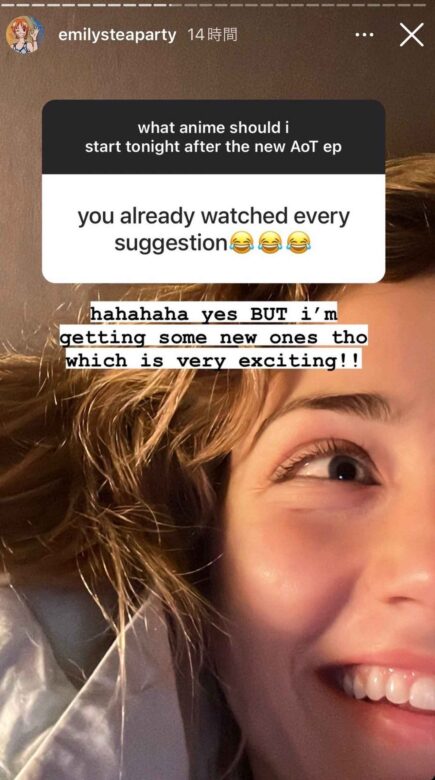 As a result, Emily chose "MONSTER," based on Naoki Urasawa's comic of the same name, as the work she had not yet seen from the many recommendations. She said she received recommendations for this film from many fans and told her fans that she would try to watch this next.