Last Updated on 10/01/2023 by てんしょく飯
Travis Kelce is a football player who has become a "man of the moment" after his romance with popular American singer Taylor Swift surfaced.
Since he is a potential girlfriend of Taylor, the international press is reporting various information about Travis every day.
In this article, we will introduce some interesting information about Travis' past behavior and "advice" given to Taylor by his former girlfriend.
On the afternoon of September 24 (local time), Taylor attended a game of Travis' Kansas City Chiefs at Arrowhead Stadium in Missouri, USA. Taylor, seated next to Travis' mother Donna, cheered on Calle from a special room. The game was broadcast the same night on FOX, drawing 24.32 million viewers. The show had the highest viewership among women in the 12-17 and 18-49 age groups that week.
Travis won the match that day, thanks in part to Taylor's enthusiastic support. After the game, Travis met up with Taylor and left the stadium with her in the convertible he was driving.
Taylor Swift and Travis Kelce leaving Arrowhead together after the game (Chiefs won!) !!! 🥹
pic.twitter.com/2NfxYNsn20

— Taylor Swift Updates (@SwiftNYC) September 25, 2023
Travis Kelce driving Taylor Swift and leaving the Arrowhead stadium together ✨🥹 pic.twitter.com/yuNhD3xz0G

— Taylor Swift Updates (@SwiftNYC) September 25, 2023
Where were Travis and Taylor headed…?
If you are a fan, you are probably wondering where Travis and Taylor were headed. First reports did not give any details on where they were going, but according to ET Canada, Travis rented out Prime Social, a rooftop bar in Kansas City, for family and friends!
An eyewitness told the site that Travis spent some special time with Taylor, who was dressed in a denim dress, eating snacks, drinking cocktails, and dancing together. Travis' teammates and mother also came to the after-party, and the party lasted until 2 am.
📝| @taylorswift13 and @tkelce went to Prime Social Rooftop last night after the game!

"Travis bought out the restaurant for his family and team. Taylor arrived, wearing a denim dress, and was seen snacking, having some cocktails and dancing alongside Travis. The two were very… pic.twitter.com/zGqqms7eHZ

— Taylor Swift Updates 🩵 (@swifferupdates) September 25, 2023
Taylor Swift and Travis Kelce at the Chiefs game after-party in new photo obtained by TMZ. pic.twitter.com/M86WjeXsjg

— Pop Base (@PopBase) September 27, 2023
Travis revealed the terms of his past relationships.
Seven years ago, Travis appeared on the talk show "Watch What Happens Live! Seven years ago, Travis appeared on the talk show "Watch What Happens Live!" and was asked by one of the other contestants, "If a girl doesn't sleep with you after the third date, do you break up with her?" When asked, "That's non-negotiable on the third date…. I don't want to say that it's a factor that can break up a relationship, but…" He suggested that it would be difficult to continue a relationship with a girl who does not sleep with you after the third date.
He added, "Can't you accept a girl who doesn't like oral sex?" When asked the question, "Do you also accept a girl who doesn't like oral sex? I don't think so," he answered bluntly. The video has now resurfaced on the Internet.
However, these statements by Travis were made seven years ago, so the terms of his current relationship may have changed. Furthermore, it is conceivable that he may have been paying lip service to the possibility that he was exaggerating somewhat, so only he knows the truth.
The comments section of the video received a variety of opinions from Taylor fans…
Travis' "ex-girlfriend" warns Taylor!
After Taylor and Travis' romance broke out, Travis' ex-girlfriend Maya Benbury criticized him.
Maya participated in the 2016 reality show "Catching Kelce," in which 50 women from 50 states competed to win Travis' heart.
Maya believes that Travis "cheated" on her with someone named Kayla Nicole during their relationship. In a recent interview with the Daily Mail, Maya said the following.
'Taylor seems like a fun girl with a beautiful spirit, so I wish her luck. But I would be disrespectful to her as a woman if I didn't advise her to be smart! Surely by now she has mastered the ability to discern between those who are really there for her and those who are just using her.
I just hope she is on the teacher's side of this situation and not the student's.
Time will tell, but you know what they always say. Once a cheater, a cheater for life.
According to Life & Style magazine, Travis started dating Kayla, a sports journalist, in 2017. After breaking up and getting back together, they broke up completely in May 2022. In addition, when they broke up once in 2020, Travis was suspected of cheating on her. However, Travis himself has denied the rumors.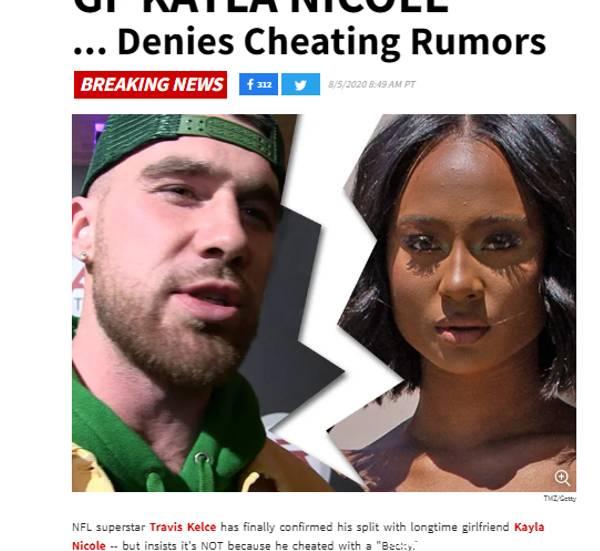 What is the future of Taylor and Travis' romance?
Travis attended Taylor's concert in July this year. At that time, he tried to give her a handmade bracelet with his phone number on it, but failed.
Unable to give up on Taylor, Travis invited her to the aforementioned game. A few days before the game, Travis appeared on the sports talk show "The Pat McAfee Show" and said, "I saw you rock the stage at Arrowhead [at a performance they held], so you might have to come see me rock the stage at Arrowhead. I can see which one was more exciting," he said, revealing that he invited Taylor to join him.
Judging from his approach to Taylor, his romantic history, and his past comments, it can be said that Travis is the type of person who is aggressive in love. Will Taylor and Travis develop a romantic relationship? Stay tuned for more news.
Taylor Swift is the celebrity of your dreams? Travis is grinning when asked if his dream celebrity is Taylor Swift.
📹 | Travis Kelce's response when asked who his celebrity crush is… 🤣 pic.twitter.com/KeskYk7nAE

— Taylor Swift News 🩵 (@TSwiftNZ) September 25, 2023
Travis, who chose Taylor as his kissing partner in "Kiss Marry Kill (*)" (2016) ↓↓↓↓
Travis Kelce's Choice of Playing 'Kiss Marry Kill':
Kill Ariana Grande, Kiss Taylor Swift, Marry Katy Perry. pic.twitter.com/tz4B5BKWYA

— Katy Perry China (@KatyPerryChina) September 27, 2023
A game in which you are presented with three people and you decide which of them you will kiss, marry, and kill.
☆ Taylor is said to be planning to come to the NFL game on Sunday (local time).
🚨 | @TaylorSwift13 will attend Travis Kelce's next game at MetLife Stadium this Sunday! pic.twitter.com/7PHSCep25t

— Taylor Swift Facts (@blessedswifty) September 28, 2023