Last Updated on 04/29/2022 by てんしょく飯
The first look footage of "John Wick 4," an action movie starring Keanu Reeves, was unveiled at CinemaCon, and it turns out to include a scene set in Tokyo! A Japan-related direction was also found on the poster.
Keanu Reeves unveils first look footage of "John Wick 4"!
On the last day of CinemaCon2022, a three-day film convention held in Las Vegas from April 25th for box-office companies and distributors from all over the world, the latest in the "John Wick" series, one of Keanu Reeves' best-known films, "John Wick: Chapter 4," was revealed. A sizzle reel of "John Wick: Chapter 4" was released.
A sizzle reel is a short promotional video that demonstrates a visual work.
When Keanu appeared on stage with director Chad Stahelski, who had arrived at the venue to show the first footage from the latest film, excited audience members repeatedly shouted "You're the man! " from the excited audience.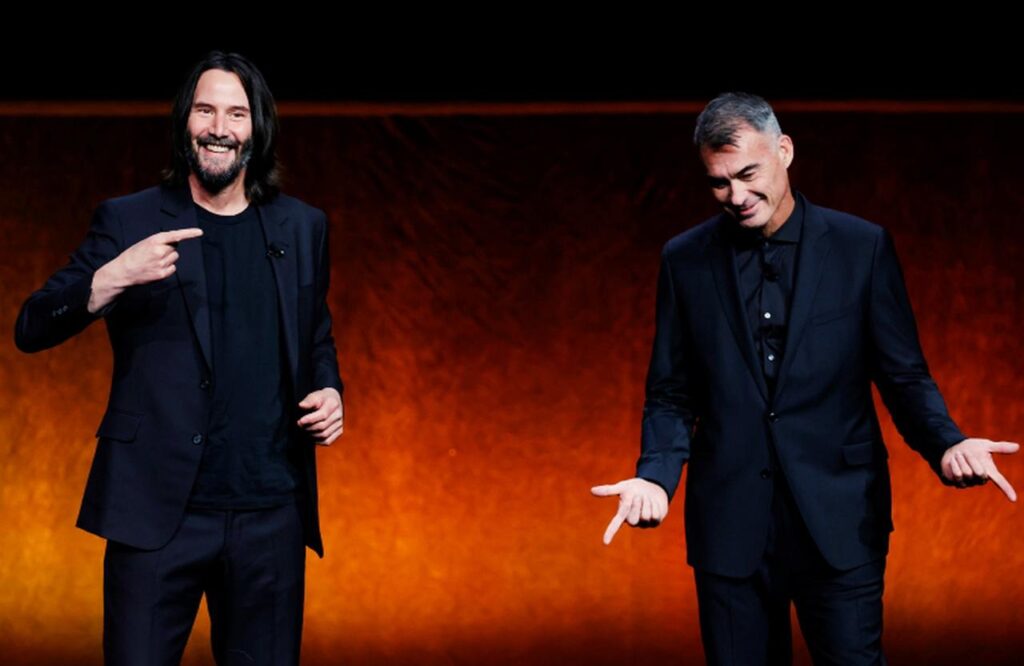 Seeing this, Keanu likened it to the story of the first "John Wick" movie and said, "To think that it all started with one puppy! Amen!" Amen!" and a mischievous laugh.
What was the reaction of the filmmakers when they saw the first footage?
Unfortunately, we are unable to show you the sizzle reel because it is only available to CinemaCon attendees, but here are some of the reactions from moviegoers who saw the short clip, the first footage from "John Wick 4.
John Wick: Chapter 4″ is colorful, bloody, and brutal. It's full of samurai action. Laurence Fishburne (Bowery King), Ian McShane (Winston), and Keanu repeatedly smash a man's head in with nunchucks. I'm going to kill them all. I know you will, my friend."-Barry Hertz of The Globe and Mail, Canadian news media
The first look at "John Wick 4″ was great. Keanu says, 'I'm going to kill them all,' and he kills them all nonstop. The cinematography was great and the color tones of the images were stellar. I can totally recommend it."-Steven Weintraub, Collider, U.S. Entertainment Media
And the scenes take place in Tokyo! Also, look at the poster!
Ian McShane as Winston, Lance Reddick as Sharon, the concierge at the Continental Hotel, and Laurence Fishburne as the Bowery King make a comeback in "John Wick 4," and Donnie Yen, one of the biggest stars in kung fu movies Donnie Yen, one of the biggest stars of kung fu films, joins the new cast.
In addition, Japanese-born Hiroyuki Sanada, Rina Sawayama, and Yoshinori Tashiro, the much-talked-about "sumo wrestler adrift," are also participating in the film. It has been rumored that there will be a scene set in Japan.
According to the details of the first footage reported by Deadline and others, it turns out that there is a scene in which John is in Tokyo! Furthermore, the poster for the latest film, displayed at CinemaCon, features cherry blossoms, which are synonymous with spring in Japan when viewed at night.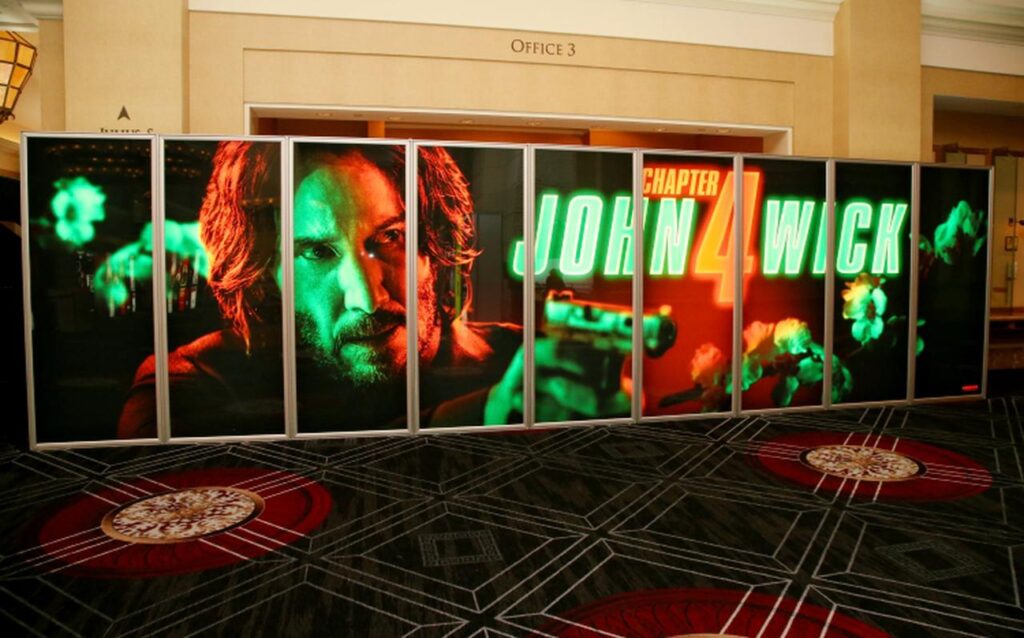 The sizzle reel footage begins with a scene of John, played by Keanu, training in an underground gym somewhere in Tokyo. Bowery King, played by Laurence Fishburne, asks, "John, are you ready?" to which John, played by Laurence Fishburne, coolly replies, "Yeah.
A character's voice, not shown on the screen, says, "It's a new dawn. New ideas, new rules, new management," and then Keanu's John says, "I'm going to kill them all," and the action scenes begin. The film is filled with soaking wet fight scenes, horseback riding scenes in the desert, car chases, and much more.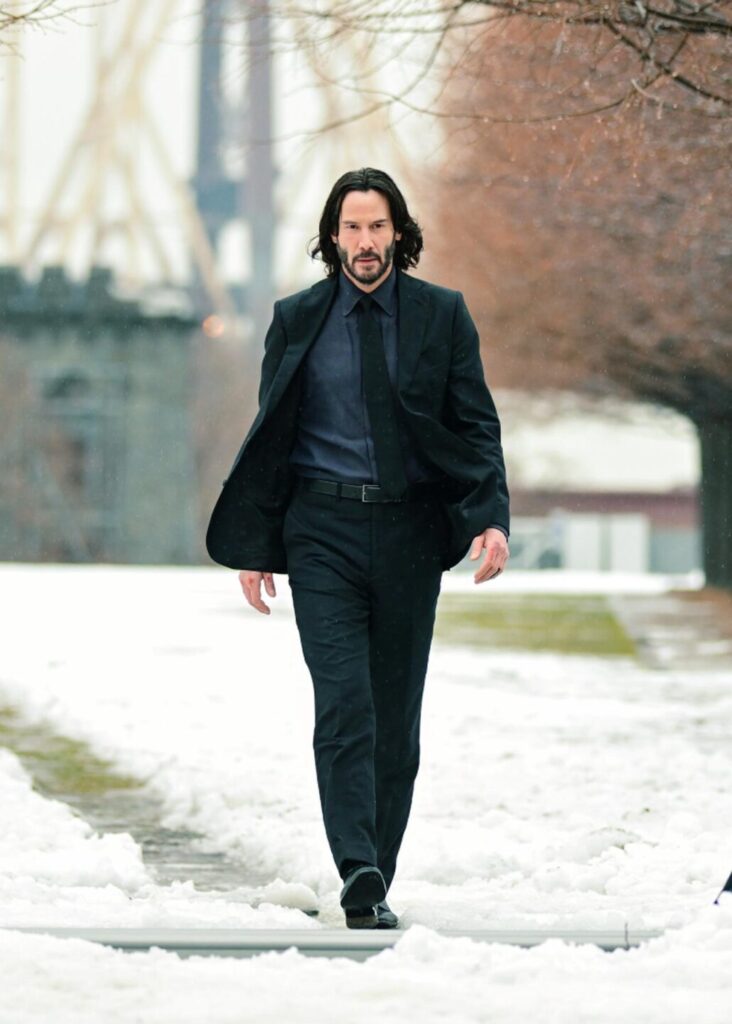 The most captivating scene for CinemaCon attendees was the battle scene in which John, who has used guns, knives, whiskey bottles, and other items as weapons in previous films in the series, makes full use of nunchaku (a type of Japanese martial arts weapon). Keanu is said to be showing action that rivals that of Bruce Lee, whom he looks up to as his mentor. At the end of the film, Winston says, "I want you to find peace, John," and "The only thing that awaits you is death.
The fourth "John Wick" film is scheduled for release in the United States on March 24, 2023. The first look of the film is already making headlines in the movie world, so expectations are high for what kind of film it will be!