Last Updated on 12/01/2022 by てんしょく飯
November 30, Qatar World Cup Soccer Tournament, Qatar, First Round League D, Australia 1-0 Denmark (Al Wakrah)
Australia  won 2-1 to finish second and advance to the final tournament for the first time since Germany 2006.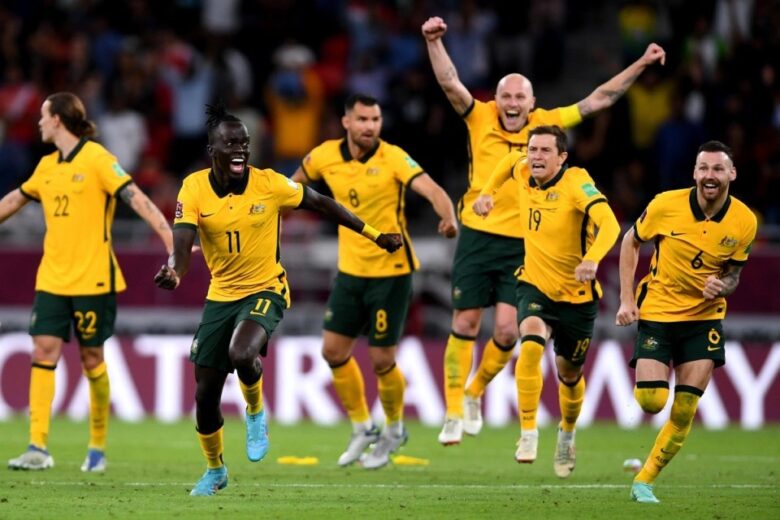 The French Twitter feed of ESPN, a sports channel, tweeted, "Decisive moment at 3:30 a.m. local time when the top 16 was decided. In the video, flares were lit and supporters were seen jumping up and down in the streets in a frenzy.
Other videos on Twitter showed jubilant supporters packed "It's 4 a.m. and they're squeezing in" in what is described as Melbourne's Federation Square.
Australia's Matthew Leckie explodes with joy as his team advances to the finals of the Qatar World Cup.
Australia entered the final match of Group D with a win and a loss. The team faced Denmark in the final match of Group D, but the Australian team was held in possession throughout the match. Despite this, Leckie scored the first goal in the 60th minute off a counter-attack, and the team withstood Denmark's onslaught with a desperate defense in the final minutes to win 1-0 and advance to the round of 16 as the second place team.
This is the second time in four tournaments that Australia has advanced to the final round of the tournament. With Qatar eliminated from Group A and Iran from Group B, Australia became the first Asian team to advance to the Round of 16 in this tournament. After the match, Leckie, who played a key role in the victory, expressed his joy on "BBC Two": "I'm really proud of everything!
I'm really proud of everything! I'm exhausted. It's hard to express how I'm feeling right now. Our group believed from the beginning to the end that we could do it.
There were doubters. But our spirit, our belief, our hard work, and our solidarity as a group showed on the pitch. In the last 15 to 20 minutes, no matter what they did, we didn't give in until the end. So I'm really proud of that.
But we have another game coming up, and it's important to recover.