Last Updated on 12/02/2022 by てんしょく飯
How much is the "annual salary" of Gavi, a member of the Spanish national soccer team and FC Barcelona? The rumors are that his contract with Barcelona has been extended and that his salary will go up….
Gavi, a midfielder of Spain's national football team, has extended his contract with Barcelona, and his annual salary has increased dramatically!
The salary of Pablo Martín Páez Gavira (18), the midfielder of the Spanish national team that will play against Japan in the third match of Group E of the FIFA World Cup Qatar 2022 has become a hot topic.
Gavi, a product of the lower organization of the prestigious club FC Barcelona, made his first-team debut in August 2021, and also became the youngest player ever to make his debut for the national team last October. This past June, he became the youngest player ever to score a goal for the Spanish national team, and in September of this year, he signed a contract extension with Barcelona until June 2026.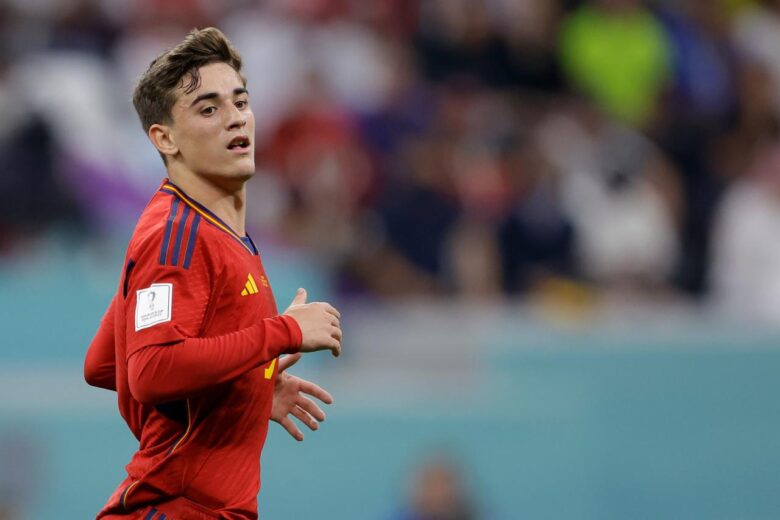 His salary before the contract extension was 100,000 euros (about 14 million yen), and while negotiations for the contract extension were still underway, Gavi's agent said that he would sign a four-year contract, with the first year costing 4 million euros (about 560 million yen), the second year 5 million euros (about 710 million yen), the third year 6 million euros (about 850 million yen), and the fourth year 6 million euros (about 850 million yen). It was reported that he hoped to renegotiate a new contract after three years and that wages would be set based on overall performance, while it was also said that Barcelona was not willing to pay more than 4 million euros.
The amount of the annual salary has not been made public, and it is not clear where the two sides finally found a compromise, but it is highly likely that they settled on something close to the above amount that Gavi's agent said he offered. 6 million euros would be an outrageous amount, but even the minimum line of 4 million euros is a considerable amount.
Incidentally, Gavi has already attracted many fans not only by his soccer skills but also by his handsome face, and Princess Leonor, the eldest daughter of King Felipe VI of Spain and the first in the line of succession to the throne, seems to be one of them, saying "Gavi has my eyes on him. "She has a hot eye on Gavi," the local media reported.