Last Updated on 03/23/2023 by てんしょく飯
Actor Matt Damon has appeared in numerous classic films, including Saving Private Ryan (1998), Invictus (2010), The Martian (2016) and Ford v Ferrari (2020), and his Bourne series was a worldwide hit as an action film. Actor Matt Damon.
Ben Affleck, who directed, produced and starred in ARGO (2012), which won the Best Picture Oscar at the 85th Academy Awards, is a successful director and actor in his own right.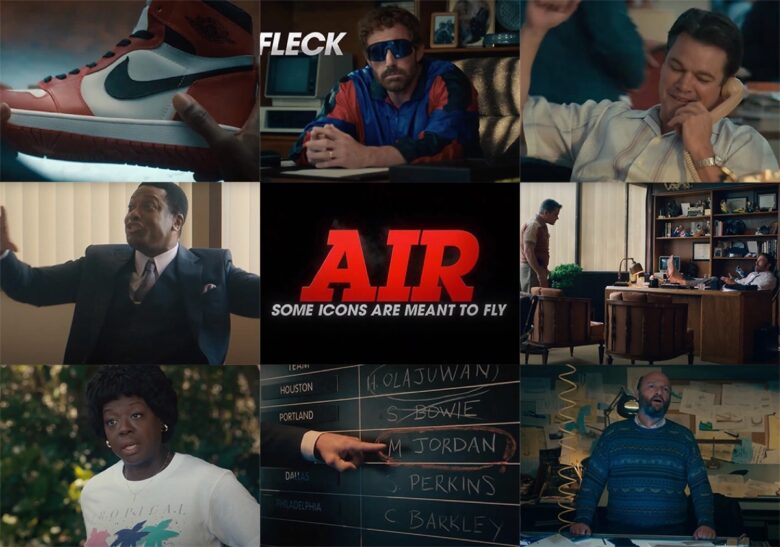 He also co-wrote the screenplay for Good Will Hunting (1998), which won the 70th Academy Award for Best Screenplay, and recently co-wrote Ridley Scott's The Last Dueling Trials (2021) for the first time in many years. The "duo who continue to produce cinema classics", who have the support of all moviegoers, have created a new moving true story. The legendary Nike shoes "Air Jordan". The story of the bets and deals made by a team of losers in a failing basketball department at the time to turn things around. AIR", which tells the moving true story of the birth of the shoes, will be released nationwide on 7 April (Friday).
The TV spot images "Inspiring True Story" and "Legendary Shoes" have now been released! In addition, an enthusiastic comment from voice actor Junichi Suwabe, who narrates the film, has also arrived!
Inspiring True Stories
Two TV spot images have been released: the "Moving True Story Arc" and the "Legendary Shoes Arc". In 1984, Matt Damon's Sonny Vaccaro is ordered by CEO Phil Knight (Ben Affleck) to rebuild the basketball department at Nike, which is underperforming. The challenge is to get Converse and Adidas to take on an oligopoly of 83% of the market. They were in a huge predicament, as Sonny put it, "If we don't win this game, we're finished," but they didn't give up. How did the team led by Sonny pull off a one-shot miracle? Watch out for this inspiring story, which will get you passionate because it is based on a true story.
Legendary Shoes Edition
The "Legendary Shoes" section focuses on the legendary "Air Jordan" shoes created by Nike, which aimed to turn the tables. Sony and CEO Phil Knight are determined to "change the world with this shoe". However, the team's challenge is confronted by a number of obstacles: lack of budget, high licence fees, fines for every game and dismissals. What kind of challenges did they face and how did they overcome them to create the legendary "Air Jordan" shoe?
The narration for the two spot films was provided by Suwabe Junichi, who has appeared in many popular films such as 'Kuroko no Basket' and 'The Prince of Tennis', and is one of the leading voice actors in the world today. The film's trailer narration was done by Suwabe Junichi, who commented that he has been a sneaker fanatic since the late 80s and that the story of the birth of the Air Jordan, a great icon in the sneaker world, is an exciting success story that will thrill even those who are not fans of trainers. This guy is a must-buy this spring!" The film has received rave reviews.
Suwabe also has a deep connection with both Matt Damon and Ben Affleck. In fact, his first film trailer narration was for the 1997 classic Good Will Hunting/The Departure, in which Matt and Ben co-starred. He felt that he was destined to work on this film. Here again, a miracle team was formed in the form of actors and narrators across the ocean. How did Nike achieve the deal with Jordan? There was a one-shot bet and deal with an underdog team – unlike any other company. An inspiring true story with the famous duo of Matt Damon and Ben Affleck and a splendid cast. Please pay attention to this film!
AIR
Release date: 7 April