Last Updated on 10/31/2021 by setagayablueocean
Hooters changed the rules regarding uniforms in response to a series of employees pointing out that "new shorts" were "like underwear."
Hooters' new shorts problem solved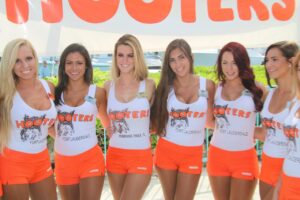 There is a slight problem with the new uniforms of Hooters, a casual American dining and sports bar from the United States.
Hooters uniform regulations require employees to wear black or orange spandex shorts, a tank top or T-shirt with the Hooters logo, stockings, and white sneakers. By the way, the employees in the photo above are wearing traditional uniforms.
Originally, Hooters uniforms are famous for their high degree of exposure, but this time, the newly provided shorts are shorter than ever, and when viewed from behind, they are designed to bite into the cracks in the buttocks.
This was flooded with complaints from employees. Employees who are reluctant to wear new shorts have come together to say "It's like underwear" and "More than half want to quit Hooters" on SNS such as TikTok, and that voice is the CEO's ear. Also arrived, and the rules were changed.
According to Business Insider of the United States, the new shorts will be treated as one of the "options", and the Hooters representative said, "As we listen to the opinions of Hooters Girls and keep updating, we will continue to update her. Make it clear that we can choose between the old uniform and the new uniform. "